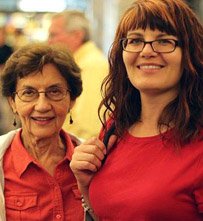 I can remember when Anthem wasn anything but desert and a few small homes scattered throughout the area (I am from Arizonaborn and raised).
Now, it&poa;s a growing and bustling city in it's own right, and seniors are especially drawn to it for the quietness, and distance from the big city of Phoenix. There are a small number of assisted living facilities in Anthem now, and we expect that more are on the way in the near future.
We&POA;ve listed them here, each may be contacted directly and safely. Intro by D. Besnette
Anthem, AZ Assisted Living: Featured Facilities & Services
Anthem, Arizona - Anthem Senior Retreat - Luxury Assisted Living
All-inclusive services and amenities in a 24-hour facility with certified caregivers. ASR is located in beautiful Anthem, Arizona "Anthem Senior Retreat is one of Arizona's preferred assisted living homes, specializing in all levels of care..."
888-502-2057
Pricing & Availability
Learn More
& Contact Anthem Senior Retreat Directly!
Anthem, Arizona Assisted Living Facilities & Senior Care
Address : 41309 NORTH YORKTOWN TRL ANTHEM, AZ 85086
Phone: (623) 551-2632
Facility ID: AL9083
877-345-1716
Pricing & Availability
Map
Address : 41607 NORTH CLUB POINTE DRIVE ANTHEM, AZ 85086
Phone: (623) 466-9652
Facility ID: AL9217
Licensee: ADAM WALKOSZ
888-502-2057
Pricing & Availability
Map
Address : 40401 NORTH COPPER BASIN TRAIL ANTHEM, AZ 85086
Phone: (602) 909-9550
Facility ID: AL9597
888-985-4427
Pricing & Availability
Map
Elder Care
Long Term Care
Dementia & Memory Care
Alzheimer's Care

See our 2nd Location Anthem Senior Retreat
Additional Support

Assisted Living Directory encourages you to visit the Assisted Living Provider Search tool which is featured on the State of Arizona's Department of Health website, for further facility research.
Select the map links in this section to see a street view' photo of the facility!