Visit, or return to Assisted Living Directory's Rhode Island page.

Every state has its own regulations when it comes to Assisted Living.  Some states offer clear-cut information and the ability to search for facility inspections and violations.  Other states' information is not so clear, or it can be difficult to find online.  Fortunately, Rhode Island's web site is easy to use, and pages are relatively short and to the point.
Who regulates assisted living in Rhode Island?
The Center for Health Facility Regulations, Rhode Island Department of Health.
Their site looks like this: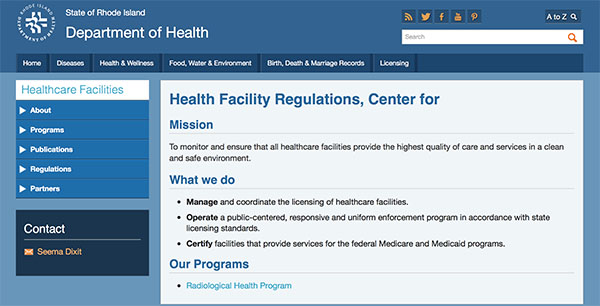 Notice that there is very little information here for anyone trying to research their options regarding assisted living care for a loved one.  However, from the State website, you can enter the search term "assisted living facilities".  Below are the results: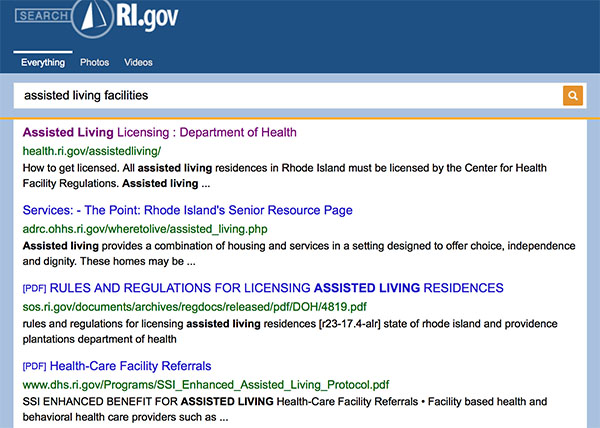 Clicking on the Assisted Living Licensing: Department of Health result takes you to this page: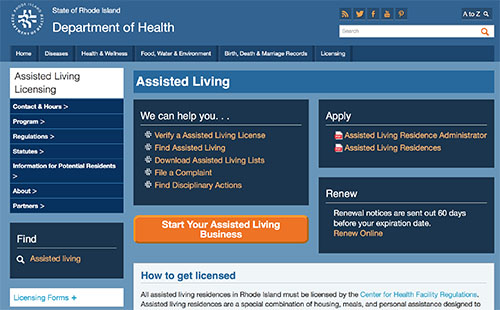 Some important links listed on this web page are:
Verify a Assisted Living License
Find Assisted Living – you can search here for information and reports on a single facility, or leave the search fields blank to see a complete list of facilities (with links to information and inspection reports) in Rhode Island.  There are currently 61 assisted living facilities listed.
Download Assisted Living Lists – results may be downloaded in Excel format.  Information is updated weekly.
File a Complaint – please note that by default, complaints are not anonymous; however, you may request anonymity.  Complaints may be filed online, or by calling the Complaint Unit at 401-222-5200 (after hours/emergency: 401-272-5952).
There is also information available on how to become a licensed facility, as well as links to information about the Board of Assisted Living Residence Administrators.

How can I view, and get a copy of Rhode Island's Assisted Living Regulations?
This document, Rules and Regulations for Licensing Assisted Living Residences, spells out the requirements for facility licensure, Alzheimer Dementia Special Care Unit/Program License Requirements, and Limited Health Services License Requirements.  Here are definitions for the latter two services, taken from the Regulations:
"Alzheimer Dementia Special Care Unit/Program" means a distinct living environment within an assisted living residence that has been physically adapted to accommodate the particular needs and behaviors of those with dementia. The unit provides increased staffing, therapeutic activities designed specifically for those with dementia and trains its staff on an ongoing basis on the effective management of the physical and behavioral problems of those with dementia. The residents of the unit or program have had a standard medical diagnostic evaluation and have been determined to have a diagnosis of Alzheimer's dementia or another dementia.
"Limited health services" means health services provided by a licensed assisted living residence, as ordered by a resident's physician, and provided by qualified licensed assisted living staff members. Limited health services includes the following:

(a)  Stage I and stage II pressure ulcer treatment and prevention;
(b)  Simple wound care including postoperative suture care/removal and stasis ulcer care;
(c)  Ostomy care including appliance changes for residents with established stomas;
(d)  Urinary catheter care.
You can access the full document here.
Families and caregivers can refer to this document and the website to have the latest information on rules and regulations, residents' rights, and other updates from the Board of Assisted Living Residence Administrators as well as the State.
Owners, administrators, and employees of assisted living homes must have access to and current knowledge of these regulations to ensure the health, safety, and dignity of their residents, and to avoid violations or citations when inspections occur.
More: Learn about opening an assisted living residence.