Assisted Living for the Blind or Vision Impaired?
Assisted Living is still a 'relatively' new concept.   If you think back 30 years or so, it's a term you were probably unfamiliar with, and the term 'nursing home' covered much of the wide spectrum of care options.
In a relatively short period of time, assisted living has had to respond to different demands, and evolve into something that cares for a wide-range of conditions and resident needs.
This may explain why there is a steep increase in the cost of assisted living as the years go by – staff need to be trained to work around and have some expertise in so many areas, conditions and disabilities.   Specialists are often contracted to come into facilities periodically, or daily to help care for those with conditions outside the norm of the familiar Alzheimer's or Dementia.
Do Assisted Living Facilities Typically Care for the Blind or Vision Impaired?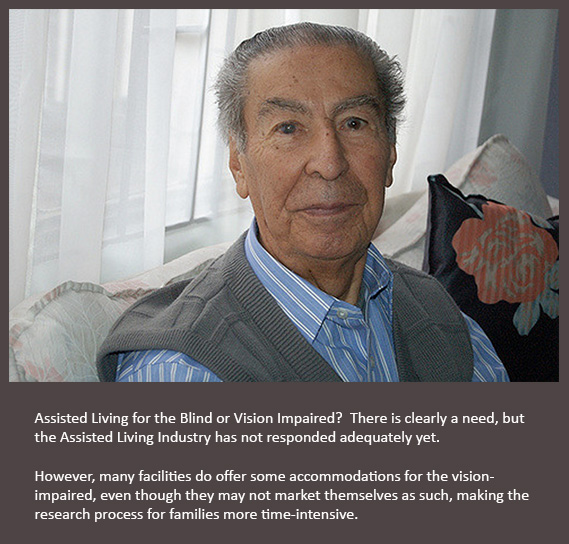 In my 12 years of being the owner/editor of Assisted Living Directory, I can honestly say that I have almost never seen a facility directly market themselves to the blind or vision impaired.
Does this mean there isn't a need or demand for it?  No, and quite the contrary.   Here is a sampling of e-mails I have received just this year from people asking facilities if they can accommodate someone who is blind:
Q: "Do you provide service to fully blind or partially blind residents?" – Kelly

A: The facility's answer was: "Yes. In fact, we have one blind person who lives here now. We are accustomed to road mapping an environment that is conducive to their needs. We also provide guidance throughout the home as needs require."

Q: "Do you have availability?  My mom is blind, 87 years old. How many residents do you/can you have?" – Rita
Q: "Seeking facility for 88-year-old mother, nearly blind. Having trouble finding staff who are sensitive to vision limitations." – Paul
Q: "I am POA for an elderly, legally blind, MediCal lady. Do you accept MediCal at your facility?" – Barbara
Q:

  "

My mother in law will be 68 in a few weeks.  She is a type 2 diabetic with a heart condition.  She is blind in one eye, so she can't drive.She has no assets and only gets about $700 per month in social security.I got your place from a web page that suggests Medicaid could help her stay at your senior home.Your place looks very nice and seems like a good fit for her. Can you help?" – David
Q: "Looking for a place for my father.  He is a WWII Veteran, age 92.  Legally blind but can see some.  Uses a walker.  Would like to know if you have availability for a private room."  – Tammi
Q: "I need to find a place for my 94 r old mom. She's recovering from surgery on her broken right hip and also is blind and has dementia. She is currently in CA  and I am a new AZ resident myself. I cannot house her myself and need to find her safe place on her very limited budget." – Jennifer
Q:

 

"Please can you help me find a suitable residential solution?  My brother is 49 y/o. Stroke 5 years ago left him with occipital blindness.  He cannot find his clothes, he cannot his shower (or phone, or exit door) so he requires 24 hour care.  BUT he is  ambulatory, can get dressed/shower/eat unassisted, and in generally good health.  Susan
Q: "My mom is needing a place to stay. She is in fairly good health but is nearly blind from macular degeneration. Would like to come by to see your facility." – Janice
Q: "Is your facility equipped to handle the blind?"- Hubert
Q: "Im interested in learning about your facility and levels of care. For example, do you have any residents who are blind?" – Michelle
This is a small sample of the messages we've received (just in one year), so clearly there is a great need for facilities that will accommodate the blind. 
So what's out there? 
If you do an online search for "Assisted Living for the Blind" or "Assisted Living for Vision Impaired" you are likely to be disappointed.   My search did not turn up much in the way of actual facilities offering services for the blind.
I did find some encouraging things here and there, for example, Sunrise Senior Living came out with a program many years ago directly geared towards seniors with impaired vision (read the article here).
I also found this great article by VisionAware, offering some great tips to assisted living staff members to help make a friendlier, safer environment for their residents who are suffering from vision loss.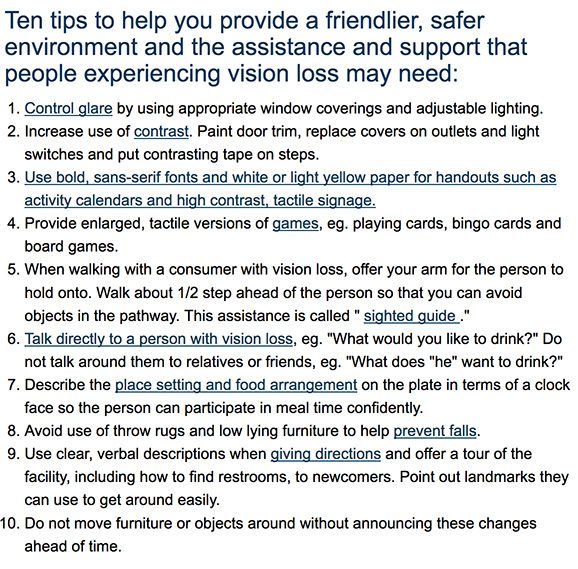 The take-away here is that most facilities do not explicitly advertise that they can care for, or handle residents who have vision problems, or who are blind.
This leaves much of the research up to the families, unfortunately.  This could mean asking e-mailing or calling each facility to find out what they offer to their blind residents.    Is it possible that a facility would put Braille markers in the resident's room, and around the facility?  Possibly, but that might be a long-shot.   
The other option is to have someone help you, and I offer this not for referral's sake, but as a genuine time-saver for you.   Assisted Living Directory works with several companies who will do much of the research for you to find the best fit based on your needs and circumstances.
If you are trying to place yourself, or a loved-one into assisted living, and need special accommodations for blind or vision issues, we recommend using this service: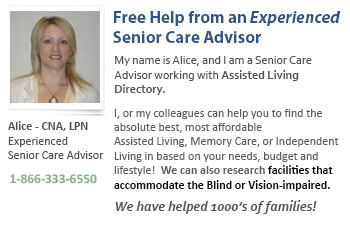 Assisted Living is still in it's infancy, relatively speaking, and as time goes on, more and more "issues" are being accommodated for.  Unfortunately, vision problems have not become mainstream for facilities, and are rather a side issue to be dealt with on a per-resident basis (for the most part).
We hope that this changes going forward, and I hope that by posting the many messages from our site visitors above will serve as a wake-up call to facilities to more aggressively connect with and care for those who have special vision needs, or who are blind.
If you know of a facility anywhere in the US that has special capabilities for caring for the blind, please let us know in the comments below!
Photo credit: M. Lemmon