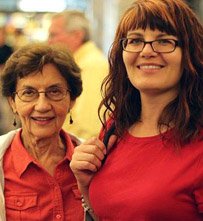 This page was created to offer a useful and interesting starting point for your research into senior care and assisted living options throughout South Dakota.
We are fortunate to have many excellent agencies, resources, and online information available to South Dakota's seniors, caregivers, and their families – to assist them with every aspect of senior care, and situation. Whether you, or a senior in your family lives independently, or perhaps lives in a supportive care or assisted living environment, there are services and programs that aim to help with most issues of daily living, and planning, as well as to enrich and enhance the lives of our seniors.
The South Dakota Department of Social Services is one such 'one-stop-shopping' source for information pertaining to Aging in South Dakota. Here you'll find not only a helpful resource directory, by county, of senior services and agencies available, you'll also find information on Senior Meals, Information and Referral, the State's Plan on Aging, and much more.
An Overview of South Dakota's Medicaid & Assisted Living Waiver Programs
In a time where there are many places to go to find information on senior care and issues, some of which may not be as accurate, or as trustworthy as others – it is important to verify your information through unbiased, non-commercial entities like the Department of Social Services, Health Department, or Department of Aging and Adult Services. Additionally, if you suspect abuse, or questionable practices, please report them to your local long-term care ombudsman, or appropriate agency. Intro by D. Besnette
Finding Senior Care in South Dakota Using Trusted Sources
Video Tutorial Produced by Assisted Living Directory
Our video tutorial will show you how to search for senior care in South Dakota, by county, or to verify information you have acquired through other websites or sources.
South Dakota Assisted Living: Featured Facilities, Video Tours & Services
[Video] StonyBrook Suites Assisted Living Facility
The area's newest and finest assisted living facility. We have a caring staff, Our Assisted Living Suites are located in Sioux Falls, SD. Contact: 605-373-0013
1-877-616-7329Pricing & Availability

Assisted Living Directory has worked with a group of wonderful senior care helpers who provide expert, experienced help and advice, and who are familiar and knowledgeable with the many senior care and assisted living options available throughout the State of South Dakota.
South Dakota can present a number of challenges for families researching care for a loved-one.In many of our State's rural areas, choices may be more limited, and may not provide exactly what you need, in the area you are looking for. On the other hand, in one of the larger cities of South Dakota, the choices may be more abundant, and possibly overwhelming or time-consuming to research them all thoroughly.
Our care advisors can help you through each step, regardless of your situation. Our services and help are at no cost to you and your family.

866-981-5725Pricing & Availability

More Cities & Smaller Town Listings:
Aberdeen
We offer impressive amenities, beautiful facilities, apartment homes and town homes, and a skilled, personable staff that is available all day every day.
1701 3rd Avenue South East
PO Box 1304
Aberdeen, SD 57402-1304
(605) 225-7626
1-866-333-6550Pricing & Availability

Living options include:
Townhome Villas
Independent Living
Assisted Living
Assisted Living Plus
Brandon
A state licensed 52 bed facility located just minutes from Sioux Falls. Rates depend on room selection. Private and semi-private rooms available,provided with an all-inclusive nursing care package. For more information call 605.582.7939
Brandon
South Dakota
Steve
866-315-1354Pricing & Availability

Brookings
Comfort, Independence and Security for Seniors Administrator: Mrs. Sue Oines
Assistant Administrator: Ms. Connie Haas
Registered Nurse: Mrs. Roberta Wagner
Registered Dietician: Ms. Lisa DeSmet
Registered Pharmacy: Omnicare of South Dakota
2015 8th Street South
Brookings, South Dakota
(605) 692-6311
888-981-6827Pricing & Availability

Chamberlain
Our 10 bed unit home is located in Chamberlain,SD. Our large back yard is the beautiful Missouri River. We are a State Licensed Family orientated Assisted Care facility, with 24 hr care. Licensed RN on call and Medication distribution certified.Our meals are home cooked and served family style.
You the resident, are in control here. We are here to help care for & assist you in your daily activities. Your well being and happiness is our major concern. Come take a look at us for your future care. Riverview Retirement Home 208 S Alcott
Chamberlain, SD 57325
Administrator: Stana Smith 605-734-5447
605-730-5385
1-866-333-6550Pricing & Availability

Pierre
220 W Dakota Av
Pierre, SD 57501 – 2414
(605) 945-0999
888-502-2057Pricing & Availability

Rapid City
Somerset Court is a resort retirement & assisted living community dedicated to providing a living environment catering to the comforts and needs of our residents while assisting them in maintaining their independence. While living at Somerset Court, residents can expect to be treated as if they are living in a resort community. This is because they are. It is our goal to cater to and pamper those who reside here.
Somerset Court Rapid City
4001 Derby Lane
Rapid City, SD 57701
605-718-3600
1-888-858-6440
888-723-8284Pricing & Availability

Property highlights include:
Nearly every amenity you can imagine as well as some that you may not have thought of
Spacious and inviting main dining room
Computer Lab with high speed internet
In-house beauty salon
Private exam room for visiting physicians
Outstanding customer service
Housekeeping services
Transportation services with regularly scheduled trips to the supermarket or shopping mall
Personal services
Trained staff is available 24 hours a day
Sioux Falls
The Inn on Westport senior community offers Independent, Assisted Living, Memory Care and Respite Care. Services include daily dining with your choice of entrees, daily round-trip transportation Monday-Friday, weekly housekeeping and linen service , a full array of social, recreational, wellness and spiritual programs, and for your security, our staff is on site and available around the clock. Each apartment home includes an intercom and emergency call system. Other amenities include:
Full service beauty/barber salon
Hobby and craft room
Fitness center
Resource room that includes HSI, library
And our 3-story atrium is a perfect place for family gatherings, musical performances or enjoy the serenity of the gardens, aviary, koi ponds and waterfall.
The Inn on Westport
4000 South Westport Avenue
Sioux Falls, SD 57106
(605) 362-1210 (phone)
(605) 361l-8866 (fax)
888-981-6827Pricing & Availability

Fellowship to Bring More Senior Care Doctors to South Dakota [Video]