Arizona is one of my favorite states when it comes to researching assisted living. All of the tools that you need to research facilities, learn regulations, view complaints and inspections and so much more are provided through state websites and resources.
Additionally, the State of Arizona makes it very easy, anonymous, and discreet to file a complaint against a state-licensed care facility anywhere in Arizona.
(Return to, or visit our Arizona Assisted Living section on Assisted Living Directory).
This includes Assisted Living Facilities, Residential Care Homes, or any other Long-Term Care or Senior Care facility in Arizona.
To see how it works, you can view our very short video tutorial on how to file a complaint against a facility in Arizona here:
Basically, by visiting the Arizona Department of Health Services, and their Bureau of Long Term Care Licensing, you'll see, in the left-hand column, a section for 'online complaint forms.'
http://www.azdhs.gov/als/long-term-care/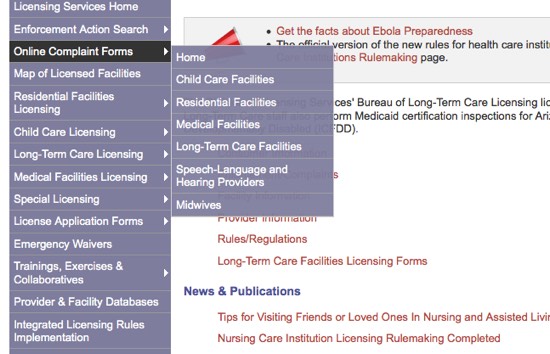 From there, you can choose Long-Term Care Facilities, or Residential Care Facilities, depending on what type of facility you, or your loved one is in.
The form is very straightforward. Although it asks for your name and information, this page, and form is very clear that it (your information) s not shared with the facility.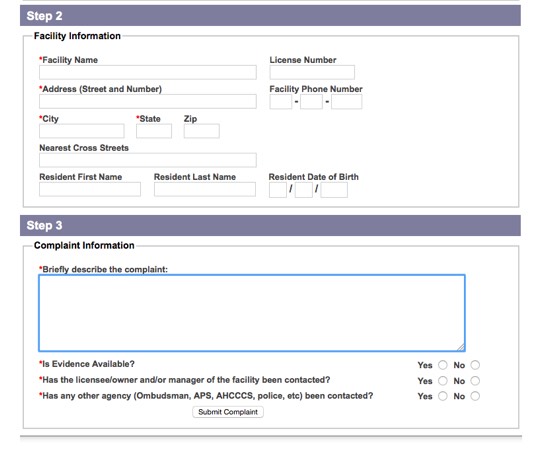 This is important, since many people, especially seniors living in a facility environment, might be fearful of filing any sort of complaint, for confidentiality reasons, and the possibility of some type of 'retaliation' from the facility for complaining.
If you need any data about the facility, like an address, license number, or phone number, you can go to the State's Provider Search tool to quickly access this data.