As you'll probably guess as you get more familiar with our site, Assisted Living Directory, I have always made it a top priority to teach our users how to find out where to get a hold of facility inspections, citations and deficiencies.
I don't do this to get facilities into 'trouble' or to paint any facility or facilities in a bad light.  I do it only to provide users with solid, tangible information to base a decision on regarding any facility or home that is being considered.
Most facilities, at some point or another will be cited for something.  It is the truly good facilities that identify areas to be fixed, and correcting them quickly and permanently.  Fortunately, too, most deficiencies are pretty minor and are easily remedied.
Arizona is a good state to be in if you are researching assisted living.   There is a great facility search tool that allows the public to look up facilities by area, county or zip, and to also look at inspections reports.
The State of Arizona has 'tallied' the 10 most common deficiencies and has put them into a TopTen Most Cited Deficiencies .pdf list.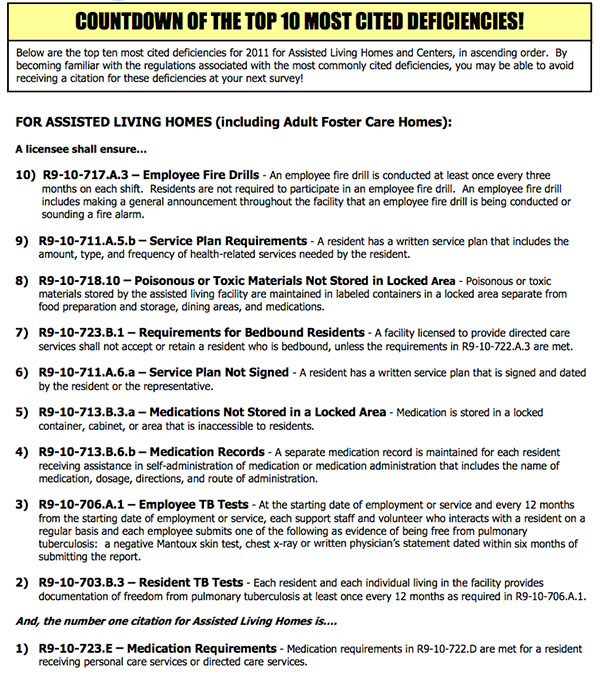 The top 10 most cited issues for assisted living centers in Arizona is:
10.  R9‐10‐703.B.9. Fingerprinting Requirements
9. R9‐10‐718.10. Poisonous or Toxic Materials Not Stored in a Locked Area
8.  A.R.S. § 36‐406.1 (d) Flu and Pneumonia Vaccinations
7.  R9‐10‐706.E.4. Employee References
6.  R9‐10‐713.B.6. b. Medication Records
5.  R9‐10‐711.A.5.a.  Service Plan Requirements
4.  R9‐10‐706.A.1. Employee TB Tests
3.  R9‐10‐703.B.3.  Resident TB Tests
2.  R9‐10‐711.A.5.b.  Service Plan Requirements
1.  R9‐10‐723.E. Medication Requirements
The .pdf list also provides the 'top 10' for residential homes as well.
At the very least, this list offers a 'conversation starter' with facilities.  You'll be able to ask specific questions about their health and safety inspections, and you will appear knowledgeable and informed.
For more information please visit our Arizona assisted living page for facilities information and our video tutorial on looking up citations and violations!
https://www.assisted-living-directory.comcontent/arizona.cfm