One of the things that we appreciate most when I come to any website is transparency, and honesty.  In the past few years, I have seen a significant growth in websites in our industry that don't tell you who they are, who they work with, or who is behind their information.
I want to take a moment to tell you who Assisted Living Directory works with, and why.  
You may notice that we offer "help" if you need it in a few places on most pages of our site.  These are trustworthy ways to ask a question, and to connect with a qualified consultant who is knowledgeable in the senior care industry.   Many of our pages have a phone number, and some of our pages have a 'form' that might look similar to other sites where you can request help.
In a nutshell, any company, advisor, expert or consultant that we have on our site is one that I/we have worked with for a long time (over 5 years)  – and that I have 'tested' personally.  I've used these services to help research care for my mother-in-law, and each provided me with excellent support, information, ideas and of course, facility information that I needed (I was looking for care possibilities in 3 different states for 'mom').  It was really a lifesaver for me to get qualified help – and best of all, each of them are free.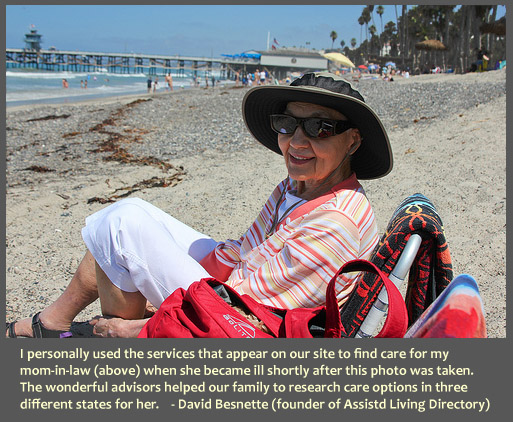 One significant difference with our site is that we offer this 'help' as a choice –  we don't force you to send us your personal details or call us to get the information that you originally came to our site for (for example, many senior care sites won't give you a facility's phone number until you send them your information).
The companies we work with to provide supportive services on our site don't resell or share your information. If I ever found out that this weren't the case, they'd be off of our site in a heartbeat!
The companies we contract with to provide free assistance are: Care Patrol (operating in several states); OurParents and A Place for Mom – both of which operate nationally, and can help you no matter where you are located.  I've worked with each of these companies for over 5 years now, and I have never received one complaint about any of them.   I've received only consistent, positive feedback for all of them.
You can contact any of these free services by calling:
OurParents: 877-452-7969
A Place for Mom: (866) 333-6550
Care Patrol: (877) 687-4988
They all have very well trained, professional staff, and are genuinely helpful.  They know local and state laws and regulations, and can help you to understand what is covered, what it costs, and realistically, what you can probably afford. We would LOVE to hear your experience with any of them, should you decide to use their services!
As far as who is behind our site:
As you can tell by looking at our homepage, my photo is there, and the photos of many of our contributors and you can contact any of us directly.  I want to be clear as to who writes for our site, and what their expertise is.
I have had personal experience in this industry in a variety of ways for the better part of the past decade – from finding care for my own family member, to interviewing facility owners, to producing video tours for facilities, to researching the best information to help you to make smart choices.
I'll expect nothing less from anyone who contributes to our site.   My number one goal is, and always has been to provide a place for families to be able to safely and successfully research assisted living.
Thanks for spending time on our site!