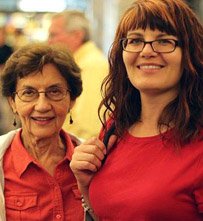 This page was prepared by Assisted Living Directory to provide a helpful and trustworthy starting point for your research into assisted living facilities and other relevant senior care options throughout the State of South Carolina. We offer facility information as well as tips and tutorials on how to find facilities or care whether you are in a city area or rural part of South Carolina.
Learn About South Carolina's Medicaid Waiver Programs – Including HCBS & Palmetto SeniorCare
The South Carolina Lieutenant Governor's Office on Aging offers excellent information relevant to seniors and aging issues. Some of the wonderful programs include: Long Term Care Ombudsman services, which exists to assist residents of long-term care facilities, or assisted living, by offering a voice, or mediator should there be a conflict, suspected abuse, or any other issue that may arise. Family Caregivers may also obtain support through the office on Aging, with counseling, support groups, training, and much more. Health, Safety, Senior Fraud, and many other topics and areas of support are also included on the website.
One of the most helpful tools we found was the SCAccess database, which is detailed in our video tutorial. This is a searchable database that allows users to search for a wide number of services through South Carolina, including, but not limited to assisted living and long-term care, adult day care, hospice, and many others. The database is comprehensive, and should serve as an additional, accurate, and unbiased way to further your research, or to verify information that you may have found elsewhere.
You might already know that Assisted Living facilities are regulated by the state in which they are located.  But did you know that some states do not use the term "assisted living"?  South Carolina is one of these states; it refers to Assisted Living as "Community Residential Care".
Who Regulates Community Residential Care (Assisted Living) in South Carolina?
These facilities are regulated by the Department of Health and Environmental Control, Division of Health Licensing.  Below is the current view of their web page.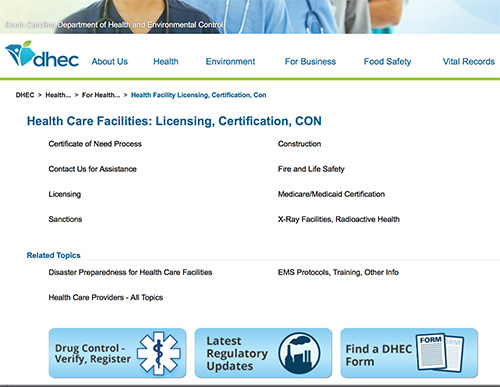 Notice that this page is concise, but offers some important links, such as Medicare/Medicaid certification, the latest regulatory updates, and an extensive list of contact information for specific divisions or areas of health regulation.  If you click on Contact Us for Assistance, for example, you'll see these: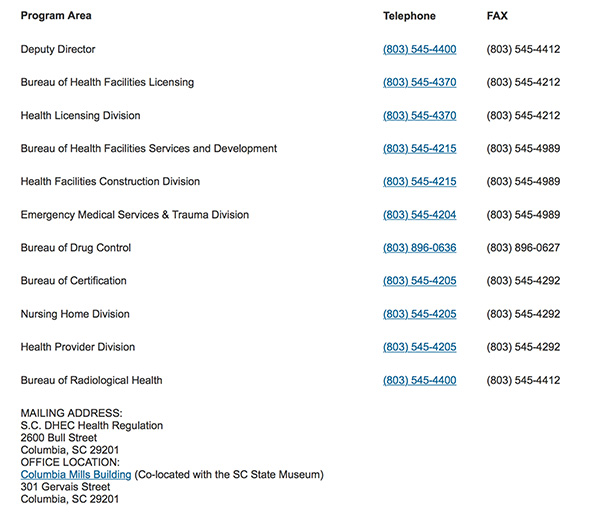 How Can I Find Assisted Living Near Me?
The Department of Health and Environmental Control provides several lists of various types of health care facilities.  There is a clickable map feature under the Facilities and Activities List for Each County. This can be really useful if you need to search for a facility based on which county the facility is located in.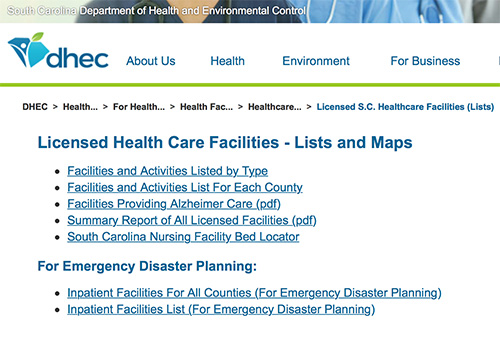 If you click on the first link, Facilities and Activities Listed by Type, you'll find a list of all licensed facilities (see below).  Among these, there is a link to a .pdf containing an alphabetical listing of Community Residential Care facilities statewide.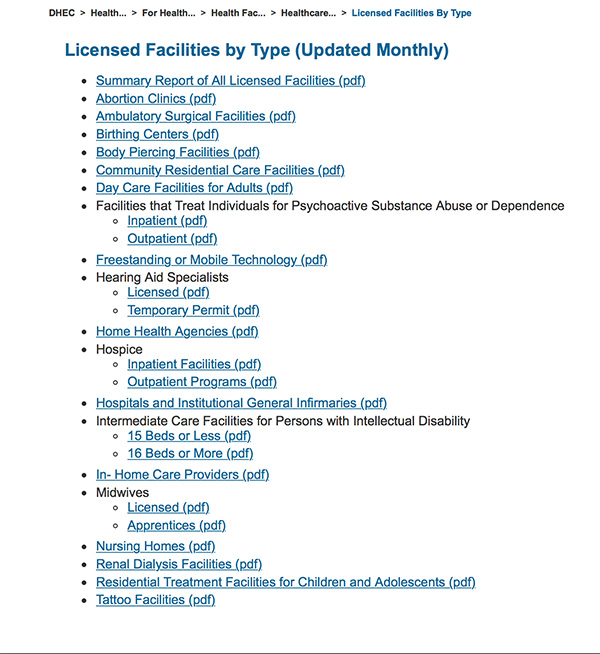 As of this writing, there are 465 Community Residential Care facilities and 202 facilities that provide Alzheimer's care listed.  The lists are updated monthly and may be downloaded in .pdf format.
How Can I Find a List of Facility Inspection Reports?
This information is not immediately obvious; I found a link to it by clicking on "All Health Topics"  under the "Health" link at the top of the page.  However, the link (highlighted, below) is broken as of this writing.  I also did a generic search on "inspection reports" but could not locate a live link containing this information.  I did find a page that outlines the inspections process.  And at the bottom of this page, there is contact information listed:
Melinda Bradshaw Phone: (803) 898-0163  Fax: (803) 898-0501  bradshmw@dhec.sc.gov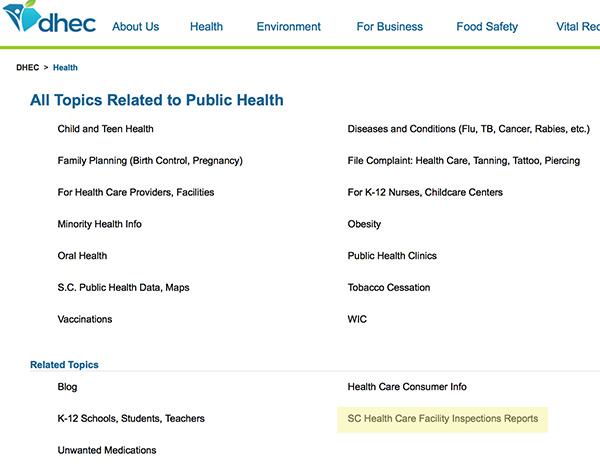 How Can I View and Get a Copy of South Carolina's Assisted Living Regulations?
This document, Rules and Regulations for Licensing Assisted Living Residences, spells out the requirements for facility licensure, Alzheimer Dementia Special Care Unit/Program License Requirements, and Limited Health Services License Requirements.  Here is the definition for a Community Residential Care Facility (R.61-84., Section 101):

You can access the full document here.
How Are Complaints Handled?
Complaints against healthcare facilities are managed by the Health Facilities Licensing Bureau.  They will accept anonymous complaints, however these are discouraged because anonymity could prevent the State from gathering additional, potentially critical information from the complainant.
Frankly, I found it difficult to locate some crucial information on the Department of Health and Environmental Control's web site.
It would have been more helpful to have sortable results when searching for facility listings; Excel is a great format for this, and while .pdf's are usually easier to read, after a few pages of information I found I really wanted to have a way to sort through all of it.
There is also a lack of guidance available for anyone in the position of having to find care for a loved one or family member.  I know from personal experience that sometimes you need to make these decisions rather quickly, so being able to compare all the details – facility location, level of care, cost and payment requirements, etc., is crucial.
Finally, the broken links to inspection reports are concerning; however, I'll check back periodically and will update this post when the issue is resolved.
This information should be extremely useful, to residents of assisted living, caregivers and families.  It should be considered essential to those facility administrators and owners of assisted living in South Carolina, as well as those who are considering opening a care facility of their own.