Visit or return to our Arizona Assisted Living Directory section for facilities information.
As per usual, Assisted Living Directory loves to point out or highlight awesome, trustworthy, and complete ways to research senior care (given that there is so much mis-information out there, and questionable practices).
We'd like to show you a very trustworthy and unbiased way to find Assisted Living Homes and other senior care providers throughout Arizona.
In addition, this site and tool will show you survey and inspections reports for each facility.   This is invaluable information to have as you narrow down your search, and wish to see which facilities have scored well in their inspections, and which may need to be avoided due to problems, complaints or violations.
Simply visit the Arizona Assisted Living Provider Search Form as listed on the Arizona Department of Health's Division of Licensing Services, and you'll see a very user-friendly search tool that will allow you to search for facilities by provider name, address, city, zip code in Arizona, and also by Provider type.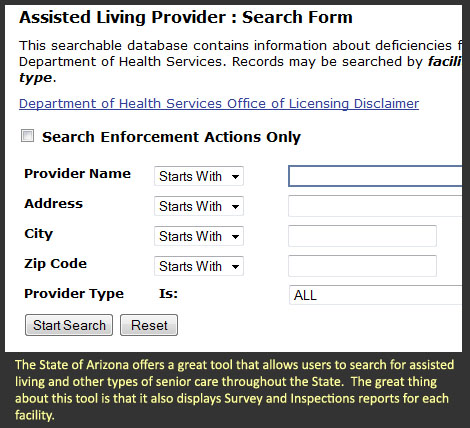 This is a great way to 'cut through the fat' out there online, and get some direct information about facilities in the area of Arizona in which you are searching.
Assisted Living Directory lists many of these facilities on our site.  However, this tool is a great supplement to any research you are doing, and a great way to confirm or verify you may have found on any website or through other marketing materials.
We wish you a safe and productive search for senior care!
– Assisted Living Directory