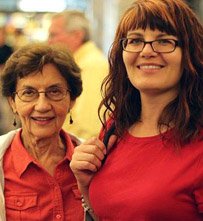 I remember a few years ago trying to help a family member to research assisted living. "Mom (in-law)" had become quite ill, suddenly, and it was quite obvious that she needed to move away from home into a structured care environment.
Since my wife and I were researching remotely (from another city), I finally realized how maddening it can be to find quality sites, and straightforward information online. It was due to my experience that I wanted to make our site, Assisted Living Directory, a place where people can trust our information, where facilities may be contacted directly, and safely, and where families can seek additional, qualified help, should they need it.
We invite you to take a peek at our homepage, and our California main page to see all of the wonderful caregivers and experts who contribute to our site, and to see our video tutorials, interviews, and additional help pages. We also encourage you to visit our San Francisco assisted living section for additional facility options nearby!
For seniors in Daly City, you have a lot of great facilities to choose from. We've listed most, if not all of them on this page, as well as video tours as we find them, and as they become available. We'd also like to highlight the San Mateo County Aging and Adult Services which acts as the Area Agency on Aging – offers a wide variety of support services and programs to Daly City's seniors and families.
Assistance may include "help with preparing meals, bathing, dressing, laundry, shopping or transportation. Some types of paramedical services may also be provided, such as wound care." Intro by D. Besnette
[Video] How To Find Help at Home for Daly City's Seniors
Video Produced by Assisted Living Directory
Highlighting an excellent, 56-page free PDF guide for seniors wishing to stay at home, or who may be transitioning into assisted living.
Daly City Assisted Living: Featured Facilities, Video Tours & Services
An alternative to traditional assisted living, this company provides numerous in-home services to seniors in Daly City. This may be a viable option for seniors transitioning into assisted living, or other care environments.
198 Los Banos
Daly City, CA 94014
(650) 757-2000
866-315-1354Pricing & Availability

Assisted Living & Senior Care Options in Daly City

748 Washington Street
Colma, CA 94015
Residential Care Facility for the Elderly
Hospice/Non-ambulatory accepted Capacity: 6
650-755-3212
1-877-616-7329Pricing & Availability
Map

501 King Drive
Daly City, CA 94015
Independent and Assisted Living
(650) 878-5111
888-985-4427Pricing & Availability

704 Maddux Drive
Daly City, CA 94015
(650) 756-1351
888-723-8284Pricing & Availability
Map

1560 Bryant Street
Daly City, CA 94015
Some highlights that separate us from other assisted living facilities:
All inclusive monthly fee with no hidden charges
Licensed LVN/RN on duty 24-hours a day
Two monthly complimentary escorted transportation to medical appointments
Licensed Beds: 55
Hospice Care
Non-ambulatory
(650) 992-2727
888-985-4427Pricing & Availability
Map

995 East Market Street
Daly City, CA 94014
(650) 756-1995
866-315-1354Pricing & Availability

Some of our many amenities include:
The Crown Room restaurant, open 12 hours daily
The Pierce Street Cinema
Library and Internet lounge
Pacifica multi-purpose/activities rooms
Heated outdoor spa
Landscaped outdoor courtyards
Beauty/Barber salon
Fully-equipped fitness center
Convenient underground parking
650-741-1537
877-644-2963Pricing & Availability

Additional Support

We know, on a personal level, how 'alone' you might feel as you research assisted living. You might be doing it for yourself, or a loved one.
Most of us don't get a trial run at it, or any training, and there are plenty of questions and considerations to sort through, not to mention figuring out what can be afforded, setting up tours, and mountains of paperwork.
We can help, and we are able to do much of the research for you – and answer the complex questions you might have!
***Assisted Living Directory can personally offer a testimonial as to the superb level of professionalism and assistance provided by this service – we used it for our own family members! You can read about our personal experience here.
We can help you with:
888-723-8284Pricing & Availability

Finding Out Facility Costs
Arranging Tours
Sorting through which facilities meet your needs
Help you to understand benefits and insurance issues or questions
Work with you on a 1:1 basis to find the best care in Daly City
Our advisors have helped 1000's of families – at no cost or obligation whatsoever. We're here to help!