How To Learn Median Daily and Monthly Costs for Assisted Living by State
The absolute, number one question or concern that we see through questions from our site visitors, and through the discussions and comments on the many articles we host on our site, is about costs and expenses for assisted living.
It's expensive, no doubt, and most families or potential residents are often faced with sticker shock when they see really how much it really is.   How to pay for assisted living costs causes considerable confusion and stress for families researching care.
*The national median monthly costs, or rate for assisted living in the US for 2016 was 3,600 dollars.   This increase from the previous year's rate was over 2.8%.

Of course, like most anything else, the cost of assisted living can fluctuate greatly across the US, as well as within local markets.
You can certainly identify, with reasonable accuracy, the daily and monthly median (average) costs for assisted living most anywhere in the US – and we'll show you how in just a moment.
However, the average cost may not mean a whole lot.   The range can fluctuate greatly in either direction from that average.   
You can certainly go all-out, and find a luxury assisted living environment that can, at times exceed 10K per month.   Or, you can go the other route and find a small, residential care home that offers a more bare-bones service model for a few thousand a month.
I think an equally important question to ask, when inquiring about cost, is "What do I get for what you're charging?"
Additionally, cost per month (or daily) may also be offset by insurance, Medicare benefits, or perhaps Veterans assistance, so out-of-pocket may not be what the advertised price suggests.
So, how do you learn what the average (median) cost for assisted living is in your state, or area?
The most well-known, and trusted source for this data is generated by Genworth, who conducts surveys across the country, state-by-state, and within specific markets within each state, to identify the average and daly costs for several models of care including:
Assisted Living
Nursing Homes
Adult Day Health Care
and Home Health Care
Genworth has conducted this research annually since 2004, and they contacted over 43,000 providers to complete more than 15,000 surveys to gather this information.
You can see their methodology here.
https://www.genworth.com/dam/Americas/US/PDFs/Consumer/corporate/48590_050516.pdf
We identified above the national median monthly rate for assisted living above*, which is found in the excellent .pdf guide offered by Genworth, which you can get here.
Their Executive Summary offers an easy-to-read snapshot of costs of assisted living according to their survey findings.
One of the key takeaways from this report is that the cost has increased from past years, and is most certainly expected to continue increasing in the coming years.
How do you learn assisted living costs by State, or specific area or city in the US?
They also have a very good tool and interactive map that provides a "Find Your Cost" state selector, and another drop-down for major cities within each state.  You can also compare locations, or calculate future costs.
By choosing a state, some very basic information comes up, and you can filter by Daily, Monthly and Annual reports.   There's a .pdf icon that allows you to export the data to a printable document.
These rates are for private, one-bedrooms.
Naturally, shared rooms will be, on average, less expensive.
Another great feature provided by Genworth is their Monthly Median Costs Tables, which offers a very visually easy-to-read snapshot of the costs of care by state for the categories of Nursing Home Care, Assisted Living Facility (private one-bedroom), Adult Day Health Care, and Home Health Care (with Homemaker Services or Homemaker Health Aide).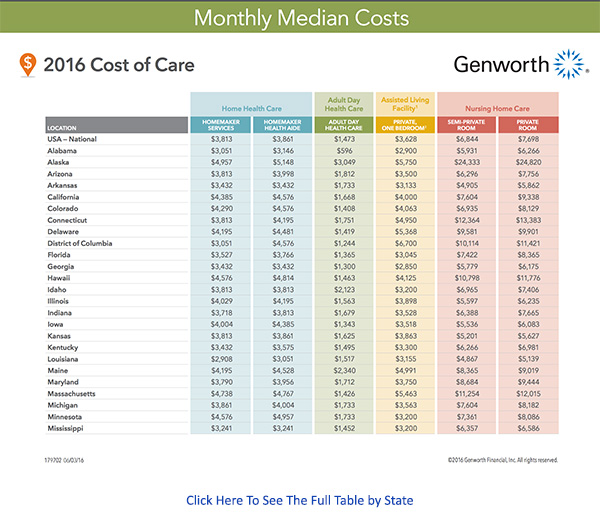 The take-away advice we have, from the 10+ years Assisted Living Directory has been online, is that the "Sticker Price" for assisted living really doesn't mean a whole lot, or doesn't tell the whole story.   
Sometimes, a very expensive facility might offer less than a more affordable care home nearby.   Taking the time to shop around, tour facilities, and ask for a specific list of amenities, services, and care levels provided with the cost advertised is hugely important.
You'll also want to ask if there are 'extra fees' for certain services or amenities, as some facilities offer a 'base rate' with add-ons for services used.  Other facilities are more 'all-inclusive' with their rate.
Lastly, you'll want to ask the facility how often their rates have changed over the years, and how long the rate advertised is good for.   It doesn't do you any good to move your loved one into an 'affordable facility' only to have the rate increase the following year to an amount that is not within the resident's budget.