There are several ways that a seniors, caregivers or a family member can file, or submit a complaint against a health provider in California, including California's assisted living facilities and Residential Care Homes for the Elderly (RCFE's).   
The first method is to visit the California Department of Public Health's Health Facilities / Consumer Information System site, where, under the tab of "Health Information" they have a page where you can submit an online form against a health facility provider anywhere in the State.
You can also print the form, and fill it out that way if you want.
The online form looks like this: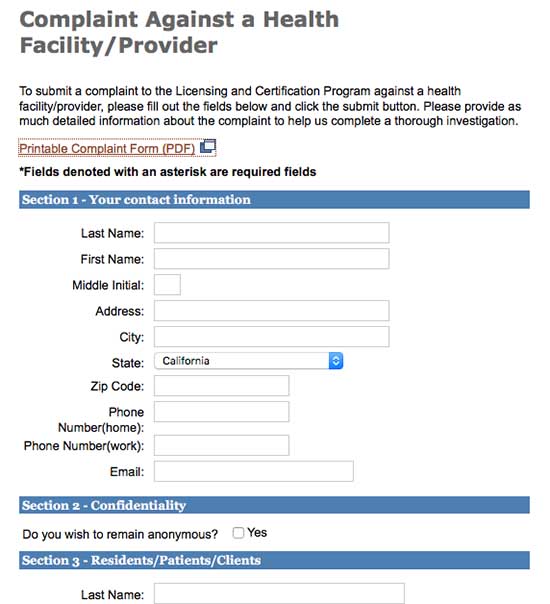 To access the online form, please visit
http://hfcis.cdph.ca.gov/longtermcare/consumercomplaint.aspx
The printable form looks similar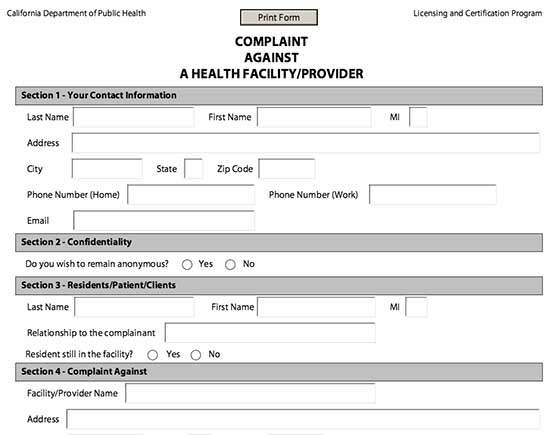 To access the printable form, please do so here (PDF)
http://hfcis.cdph.ca.gov/longtermcare/complaint.pdf
A common question one might ask about this process is "May I remain Anonymous?"
The answer is, for California – Yes!   There's a section (2) for confidentiality, where they will ask you if you wish to remain anonymous.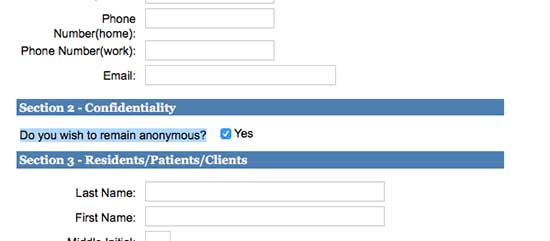 Another way that I have recommended for families to have an issue investigated is to contact your Local Area Agency on Aging. 
Every state, city and rural area of California (and the US) is covered by a Local Area Agency on Aging.  These agencies exist (through state and federal funding and support) to offer guidance, services, programs and supports to seniors and caregivers within the agency's direct service area.
Within these agencies, you should find a Long Term Care Ombudsman, which is a designated, and trained (hopefully) third-party who will investigate abuse, mistreatment, or sub-standard care at an assisted living facility.
To find your Area Agency on Aging in California, you can visit the California Association of Area Agencies on Aging, where they have a list of each PSA, or service area and a link to the specific agency by county.
http://www.c4a.info/area-agencies-on-aging
You can also download the directory in pdf format, as well as a map of each agency and their corresponding service area.
To learn more about California's Long Term Care Ombudsman Program, please visit
http://www.aging.ca.gov/programs/ltcop/
They offer a CRISISline number where they take calls 24/7 and refer complaints accordingly
1-800-231-4024