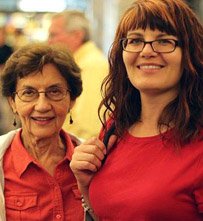 I am often times asked what my goal is with our site,Assisted Living Directory, and believe me, I give that question quite a bit of thought every single day.
I always come back to "What would I want to know if I were doing research for a family member." And I have had to, so I know how frustrating the research process can be.
Really, it's all about listing solid information about facilities, but also allowing our users to contact those facilities directly and safely, with no strings attached (have you ever noticed how many senior sites stop short of offering a phone number, instead making you send in personal information)?
I also really believe in highlighting and promoting other trustworthy sites, and sources of information. There's plenty of other places on the web that would be helpful to our users – so we include them throughout our site.
For Augusta, a great site to keep bookmarked is the CSRA Area Agency on Aging. Agencies such as this serve to provide seniors, families and caregivers with programs and services such as meal delivery, transportation, information and referral and caregiver support.Intro by D. Besnette
CSRA Area Agency on Aging
Informational Video for Augusta Senior Services
Augusta, GA – Assisted Living: Featured Facilities & Services
Pendley Personal Care Home Assisted living located on Central Avenue. Premier Veterans home in the community. We have live in medical staff. We provide medication assistance, daily meals and snacks, laundry, room cleaning, activities, and some transportation to Doctor visits. We also do Friday night outings for dinner and outings for lunch. We have local church pick up and senior center a few blocks away.
888-723-8284Pricing & Availability
Learn More
& Contact The Mann House Directly!
Assisted Living Facilities & Senior Care – Augusta
LIST YOUR FACILITY – Any licensed facility in Atlanta in good standing may list here!
Research Tip: Check out the following facilities' map link to see a street view photo as taken by google maps!
Learn which facilities in Atlanta have immediate availability: 866-333-6550
877-345-1716Pricing & Availability

326 Boy Scout Road
Augusta, GA 30909
(855) 308-8820
866-315-1354Pricing & Availability
Map
Service fees based on need
Delivering quality service and care to each individual
Regular review of service plans to meet residents' changing needs
Trained staff to assist with activities of daily living, 24/7:
Bathing/showering
Clothing selection
Dressing assistance
Grooming
Hygiene
Mobility/transferring
Dining assistance
515 The Pass
Martinez, GA 30907
(706) 855- 6565
888-723-8284Pricing & Availability
Map
2377 Dublin Drive
Augusta, GA 30906
(706) 798-2127
888-985-4427Pricing & Availability
Map
2330 Ruby Drive
Augusta, GA 30906
(706) 793-0111
877-345-1716Pricing & Availability
Map
2237 Lee Street
Augusta, GA 30904
(706) 736-9663
866-315-1354Pricing & Availability
Map
Short Term Care
Discharge Planning
Dementia & Alzheimer's Care
Long Term Care
"The Jud C. Hickey Center for Alzheimer's Care is a non-profit organization and is dedicated to providing support and assistance to Alzheimer's patients and their families in the CSRA."
1901 Central Avenue
Augusta, GA 30904
(706) 738-5039
888-723-8284Pricing & Availability

1227 West Wheeler Parkway
Augusta, GA 30909
(706) 863-1188
1-866-333-6550Pricing & Availability

Attractive, homelike personal care rooms for individuals and couples
Large walk-in closets, small refrigerators, porch and inside sitting area available in some rooms
Three meals a day served in the dining room
Beauty shop, notary services, housekeeping, laundry facilities, staff chaplain, on-site rehabilitation and resident council
Activity Programs, including outings for residents
724 Greene Street
On-Site Services
Augusta, GA 30901
(706) 722-2096
877-345-1716Pricing & Availability
Map
A Convenience Store
Exercise Room
Library
Gift/Crafts
Laundry
Beauty Salon
Parking
Sun Room
Game Room
105 North Hills Drive
North Augusta, SC 29841
(877) 713-1034
877-644-2963Pricing & Availability
Map
Looking For Further Information?
***A great, state-of-Georgia database of senior services and assisted living that we highly recommend checking out. A fantastic, non-commercial stand-alone research tool for assisted living, residential care, and other senior care services in Augusta and Georgia!

Save Time & Hassle – Let Our Advisors Do The Research For You!
Assisted Living Directory has helped 1000's of families (including our own!) to connect with great care facilities! You can read our personal experience here!