Learn about assisted living regulations in Georgia
If aren't familiar with assisted living regulations, you can't really know when something's not right, or if you (or a loved one) are receiving sub-standard care, right?
Whether you are a resident of an assisted living facility or residential care home in Georgia, or perhaps a family member, friend, loved one, or a caregiver, you should be familiar with Georgia's assisted living regulations – or at the minimum, you should know where you can find them for reference.
First, it's wise to know who is in charge of regulating assisted living in Georgia.  This title goes to the Department of Community Health, Healthcare Facility Regulation Division.
http://dch.georgia.gov/healthcare-facility-regulation-0
This department supports the "delivery of safe, accessible, affordable and quality health care services through effective and efficient planning, regulation and oversight."
This division was created in 2009, and is composed of the Office of Facility Licensure, which manages the licensing, certification process, and oversight for the over 15,000 health care facilities in Georgia, including assisted living.
Additionally, the department of supported by the GaMap2Care database, which is a robust facility search tool, providing information on over 7,000 (at this time) health care facilities statewide, including Georgia's many Personal Care Homes, or assisted living facilities.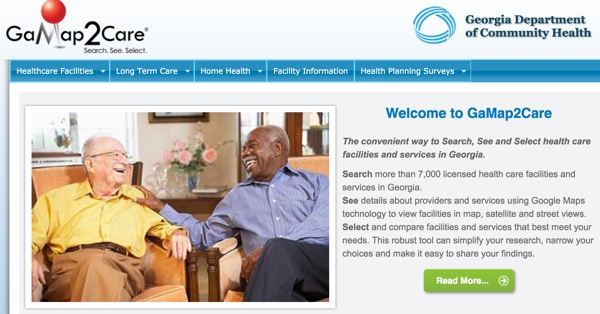 Important note – This page also provides information on how to file a complaint about a care facility in Georgia.  You can do so by calling 1-800-878-6442.
There are also sections for Forms and Applications, as well as for HFR News.
Where Can I View, and Get A Copy of Georgia's Assisted Living Regulations?
You can go to; the main page for the Rules and Regulations for the State of Georgia here: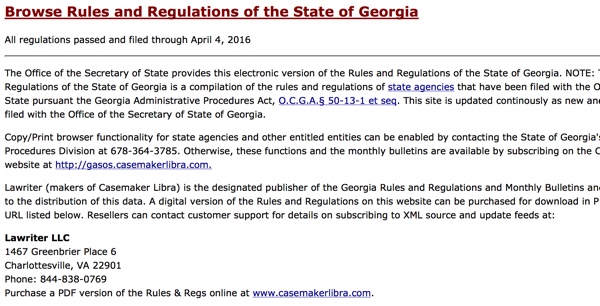 Or, you can go to the following .pdf document, which, at this time is almost 90 pages long.  This document provides the rules and regulations for assisted living communities in Georgia.
http://dch.georgia.gov/sites/dch.georgia.gov/files/imported/vgn/images/portal/cit_1210/1/0/180501561111-8-63_Final.pdf
A quick scan of the table of contents, you'll see that the following areas are covered in great detail:
Definitions
Application for Permit
Workforce Qualifications, Staffing, and Training
Community Furnishings
Medications
Temperature Control
Death of a Resident
Variances and Waivers
Severability
and quite a few more.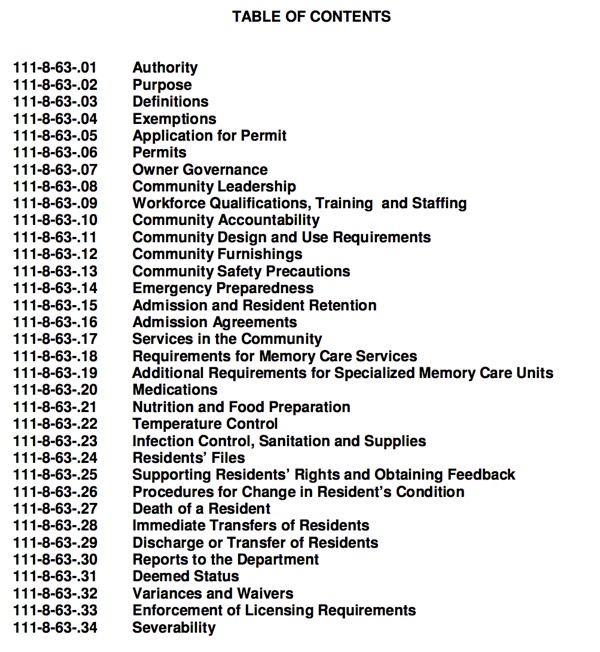 The definitions section is a good place to start.  It's important to understand that each state defines assisted living differently, and for Georgia, an Assisted Living Community is defined as "…a personal care home serving 25 residents or more that is licensed by the department to provide assisted living care."
One section, (111-8-63-.11) was very interesting to me.  It covers the design and use requirements for an assisted living community.  Basically, this provides guidelines and rules as to how your community is designed, while keeping health, safety, well-being, and dignity of residents as top priorities.
For example, common areas must have separate and distinct living rooms, and living rooms large enough to accommodate the residents without crowding.   The rooms must be "comfortably and attractively furnished" which is a bit subjective, but important nonetheless.
Guidelines in this documents also talk about square footage for bedrooms, and how many residents can share, or occupy the same room.
This rules and regulations document is long, and detailed, but is essential for facility administrators and owners to be intimately familiar with, and must be highly accessible to residents, family members, facility staff, and caregivers.
This document, and the sties and databases highlighted above are also important for anyone wishing to open their own assisted living home in Georgia.