I adore an honest, and incredibly useful tool that families and seniors can use – for free – to research assisted living.
Unfortunately, many of these straightforward, honest 'gems' for assisted living research are not readily findable, or at the forefront in search, and are usually not mentioned or included on most commercial senior care or assisted living websites.
We were very excited to find a great tool offered through the Multnomah County ADS (Aging and Disability Services) site, which offers a comprehensive database of the county's, and Portland's assisted living facilities, and many other adult/senior care options.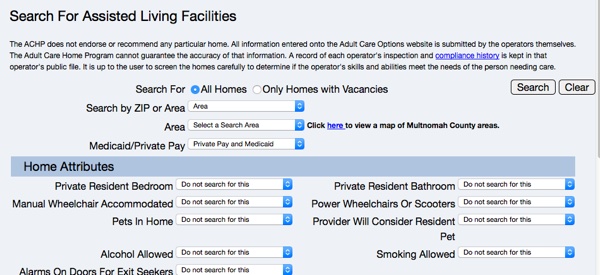 It's free to use,  and can offer a plethora of information, as well as very specific information by using their many drop-down menus and filters to refine a search of facilities you are needing or interested in.
Through this tool, you can:
Search by Zip, Area, and whether the facility is Medicaid or Private Pay
Search for homes or facilities only with vacancies
By specific attributes of the home or facility, including whether it has private bedrooms, is wheelchair accessible, private bathrooms, pet friendly, whether smoking in the facility is allowed, and so much more.
By care assistance needed, or behaviors.
What languages are spoken at the facility
Whether they have experience with, or welcome LGBT seniors.
The facility list that is produced, once you do your search is very good, and includes helpful information for each facility including the facility's website/url, home details and attributes in an easily readable list, photos, a street view of the facility and often times much more.
Additionally, there is a page that explains how you can view each facility's compliance history which is extremely useful.
In short, according to the Multnomah County ADS site,  "You may review the compliance history of any adult care home by visiting Multnomah County Adult Protective Services Office.
These public files document all complaints against the home, and also contain all annual inspection reports."