This post will highlight how you can quickly look up assisted living facility complaints, inspections, licensure, and health/safety code violations for every facility in Idaho in an easy-to-read, format like this: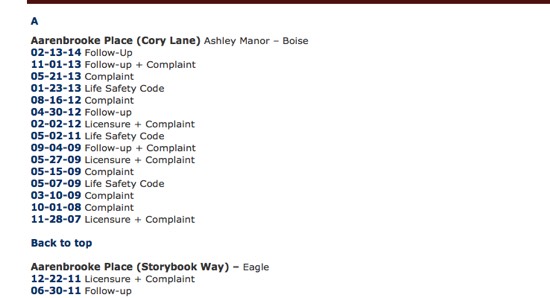 In the 10 years that I've been writing for, and working on our site, Assisted Living Directory, I've seen many states slowly come around to offering the public an easy, online way to look up assisted living facility inspections reports, surveys, health and safety code violations and complaints.
(Return to, or visit our Idaho assisted living section).
Idaho is one such state that's made great progress.   Through the State's Department of Health and Welfare website, you have quick access complete facility lists statewide (at the time of this writing, there are 286 assisted living facilities in Idaho), as well as inspections, complaints and survey information for each facility.
To look at this information, you'll need to visit the Health and Welfare 'Assisted Living / Residential Care' consumers page here:
http://healthandwelfare.idaho.gov/Medical/LicensingCertification/StateOnlyPrograms/AssistedLiving/tabid/273/Default.aspx
Down just a little ways, you'll see the Consumer Information section with a handful of sections/links that you can go to.
The first is an excellent list of facilities statewide, which you can use to identify Alzheimer's or Dementia facilities, or those geared for the elderly, or even for TBI (Traumatic Brain Injury).
This list comes in a handy, save-able, and printable .pdf format and looks like this: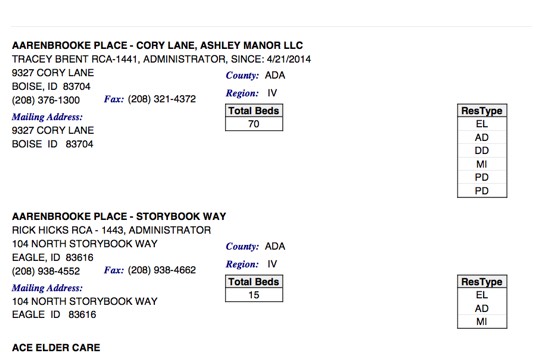 http://healthandwelfare.idaho.gov/Portals/0/Medical/LicensingCertification/100614RALFAlpha.pdf
Just below is the section/link taking you to the facility surveys, complaints and inspections reports.
http://healthandwelfare.idaho.gov/Medical/LicensingCertification/RALFSurveyResults/tabid/318/Default.aspx
This list, again, is alphabetical, and under each facility name you'll see a list of inspections, or complaints, by date.
Selecting an incident or report brings you to a detail page, which discusses in detail the report, what occurred, any violations that were found, and a plan of correction.
A report will look something like this, and can be saved and printed: