This industry, assisted living, scares me, and make me worry often.
Having been involved with the assisted living industry for the past 10 years, and with our site having had a significant presence online during that time, I've witnessed what I would classify as a "gold rush mentality" with retirees, and assisted living, and it's not really a good thing.
Think about it – we are in an unprecedented time right now, with over 10,000 people hitting retirement age every single day, and we are riding the crest of the "baby boomer bell curve" which is the explosion of this generation leaving the work force, and into their retirement years.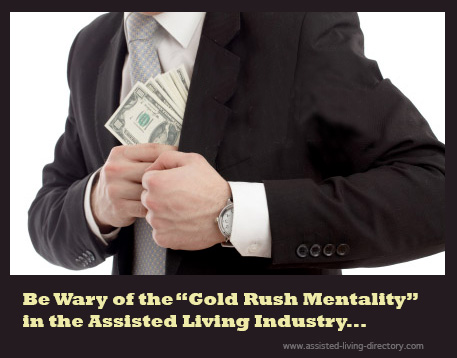 Naturally, the number, and percentage of these seniors needing specialized care like assisted living is also without precedent.  The industry is absolutely booming, with no chance of slowing down.
It's a top-dollar industry too, with assisted living facilities and homes being able to command thousands of dollars monthly for a bed, and often times this is covered through private pay sources.
The Gold Rush Mentality
I witness this every day through our site – the comments posted, the messages we get, and the inquiries from families or companies that flow through our inbox.
If you take a look at our how to open a facility page, and scroll through the hundreds of comments, many of them are from individuals, often times very obviously without much experience, seemingly desperate to break into this industry by running an assisted living home of their own.
Based on their comments, it's easy to ascertain that many of these folks may be well-intended, but reality-distorted.
See more about the 'realities of operating an assisted living home.'
Very rarely is the conversation, or the questions focused on the best care for the seniors, or how to provide the best care or service possible.  It's often an admission (directly, or indirectly) of lack of experience, and willing to wing it to break into the business.
This is scary, as we are dealing with a fragile, aging, and often times mentally-compromised (Alzheimer's or Dementia) population of seniors who need the "A-team" of caregivers.
Based on the frequency and types of news stories we see almost daily about abuse, neglect and homes closing due to violations or citations, clearly the B, C and D teams have been getting a foothold in the assisted living industry.
Experts who are anything but
Outside of the confines of any assisted living facility or home, or dreams of becoming one,there is a legion of companies, websites, and individuals aggressively vying for a piece of the 'assisted living pie' by posing as experts, advisors, or tour guides to help place families into a facility.
These companies or individuals often claim 'expertise' in the assisted living industry, when they are often, in reality, no more qualified than the average family is.
Think about this:  Most assisted living facilities or homes are willing to pay a commission equivalent to the first month's rent at the facility to someone who 'refers' a family, or fills a bed – regardless of who that 'someone' is. 
It's a huge business with a lot of pie to be had, leading to fraud and criminal activity within our industry.
Families must be very careful, and do their research on who they work with, on the facilities they are considering (track records, violations, or citations, abuse etc.) and to collect their data and information from trustworthy resources.
Much like anything else, your instinct and common sense are your best allies.
If something smells fishy, then it probably is.  Go with trusted companies who have been around for a while.  Look at Better Business Bureau records, and public records available through the health department, or Department on Aging wherever you live.
Learn how to spot a questionable senior care website (there are plenty of those).
Lastly, get second opinions, and ask questions.   A great place to ask those questions and to get a non-commercial, state and federally run 'sounding board' is through your local Area Agency on Aging.
Every state, city, county and rural area of our country is covered by one. These were created through the Older Americans Act many years ago, and provide a place to learn about aging and housing resources where you live, and to ask questions about facilities in the area, and to report questionable practices and tactics.
Be careful out there.