I'd be willing to wager that if I were to ask you, or any random person, how they would go about filing a complaint against an assisted living facility or senior care residence in Alaska, I'd get more than a few 'furrowed brows."
(Return to or visit our Alaska Assisted Living page)
I think that a lot of folks would guess that they'd need to contact the Better Business Bureau, which, may help in some instances, however, there is a very specific way to file a complaint against a licensed health care facility, including assisted living in Alaska, and we'll show you how to do it here.
Unfortunately, like some of the other more 'technologically advanced' states out there, filing a complaint in Alaska can't be done through an online submission.   I hope that this changes in the near future.
Instead, there is a form that you have to fill out, and send in, which can be downloaded and printed in a .pdf format – and it looks like this: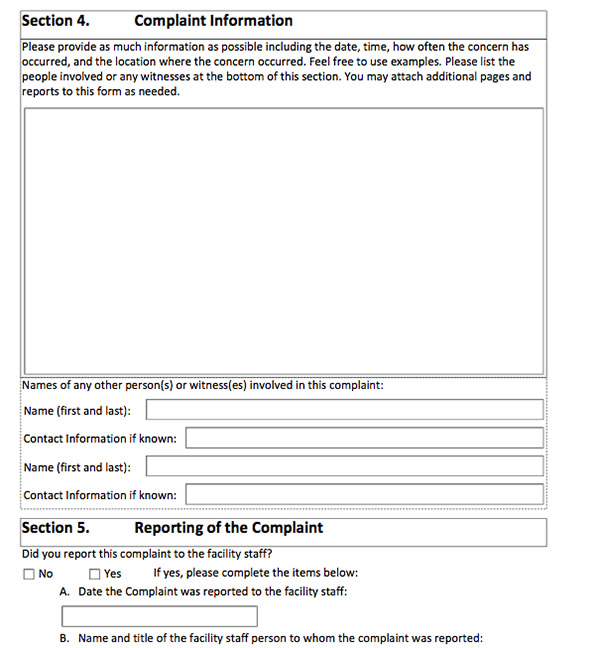 You can access the form here:
http://dhss.alaska.gov/dhcs/Documents/hflc/PDF/Forms/Complaint_Form.pdf
Here is where you send it to:

There is a phone number you can call with questions, and I assume that they will keep your information anonymous, if asked.  I recommend that you call the Health Facilities Licensing and Certification department to make sure.
According to the DHHS, "At the end of the investigation, the State Survey Agency will notify you of the results if you provide your contact information in Section 1 on the complaint form."
The other way that families, seniors, caregivers or even staff of assisted living homes can initiate a complaint and investigation is to contact your local Long-Term Care Ombudsman who acts as an impartial 3rd party to negotiate, or investigate issues, complaints or abuse between assisted living facilities or other long-term care homes, and their residents.
For Alaska, we recommend visiting the Alaska Long Term Care Ombudsman website to learn more.