I was pleasantly surprised recently when I re-visited Washington's DSHS Aging and Long-Term Support Administration website, which has been re-done, and includes a plethora of helpful facility information, definitions, and regulations documents.
(Return to, or visit our Washington assisted living section)
One of the most useful things I found (given that I get so many questions on our site, Assisted Living Directory, on which facilities accept, or work with Medicaid), was their facility locator tool and database, which offers not only a great way to research facilities, but also a way to identify those facilities that accept Medicaid.
Very simply, visit the facility locator: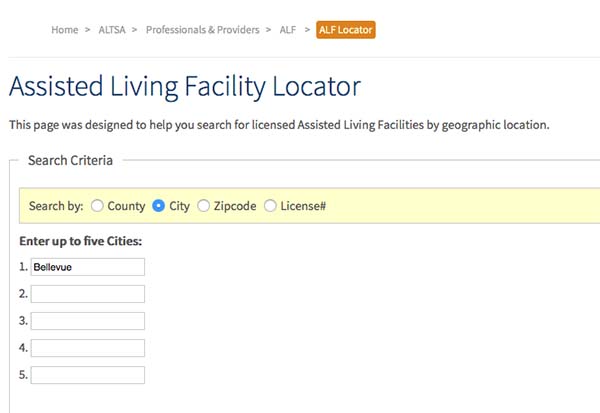 https://fortress.wa.gov/dshs/adsaapps/lookup/BHAdvLookup.aspx
and from there, you can research, and search for facilities state-wide and filter using a number of choices including by:
City
Zip Code
License Number
County
From there, your facilities will be displayed.  The information about each facility includes:
The Location
The Facility Phone Number (direct)
The Capacity of the Facility (or number of beds)
and
Contracts and Specialties (this is where it will clearly state whether the facility accepts Medicaid, or not)

Some other cool features about this too is that you can also look at some of the important documents and enforcement letters that have been issued to the facility, including fines imposed.
On the main search page, you can also choose to have your list produced in Excel format, Printer Friendly, or CSV format, all of which are helpful if you want to print your list to take around to different facilities as you tour them, and be able to write notes about each.
You can also filter by those facilities that handle Dementia residents, and those that do not Contract with, or accept Medicaid.
Washington Medicaid:
http://www.medicaid.gov/Medicaid-CHIP-Program-Information/By-State/washington.cfml