When I first started our site, over 8 years ago, I never really pictured that the topic of opening and owning an assisted living facility or home would be one of the most discussed, and popular topics on our site.
In hindsight, I can understand why.  So many baby-boomers retiring, so there is a market for new homes, and beds, and it can be a good business opportunity for those who have the experience and drive to do so.
Right out of the gate, I want to point out for anyone starting the process, or is thinking about starting an assisted living home, please take a look at our "How To Start An Assisted Living Facility" page, which has hundreds of comments, videos, administrator interviews, and tips on opening a facility.
For this section, I wanted to touch on something that I am not sure many aspiring facility owners fully absorb, or realize about the senior care business.   I've interviewed may assisted living homeowners, and I have visited numerous facilities (I do video tours for facility owners), and I've noticed that there are some common, sometimes stark realities of owning and operating a residential care home, or senior care business.   Ignoring these realities, or not fully exploring them mentally, or even spiritually before making the commitment can, and will most likely lead to failure.  Embracing these realities, working with and internalizing them will help you with your success.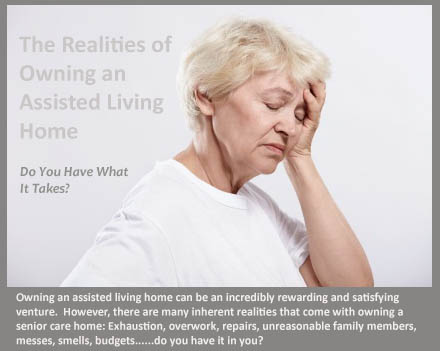 I am making the assumption, too, that most people reading this are looking to open a smaller, residential home.  Larger, more corporate facilities are usually owned by numerous people, entities, and their staff are paid employees, with no ownership. Large facilities, however, are where people often get the experience, and inspiration to go it alone, and open their own care home.
The Realities of Owning An Assisted Living Home:
1) The first, most common impression I have had as I have interviewed facility owners, and visited with them, is that they are often tired, and overworked.   For most residential care home owners, or small assisted living facility owners/operators, there are no weekends, no holidays, and few days off.  Often-times, these facility owners live in the same homes that their residents do, and attend to issues, demands, and crises 24 hours a day.   The owners are the eyes and ears of the facility, and leaving the property, even for a day, or a few hours, can be challenging.
2) I've visited with many facility owners who are married, and who operate their homes jointly with a spouse.   This can be a great, bonding experience, but it can also present many challenges for a relationship.  There's little privacy, little opportunity for downtime or intimacy, and it's hard to separate work from your personal existence, and relationships.
3) You'll likely, as an assisted living home-owner, have to deal with death and loss more often than most people.   Your residents will become like family to you, and sadly, there will be loss from time to time.
4)  You'll need a strong stomach for odors, yucky sights, and a strong constitution for behavior issues, moaning and screaming, crying, and mental instability.   Yes, you may have residents who wear adult diapers, and who void themselves regularly, and who need help 'cleaning up' several times a day.  I've visited homes where residents moan and wail periodically, due to their dementias, or who act aggressively.  You, the facility owner, may be blamed for things you didn't do, simply because the Alzheimer's-ridden mind of one of your residents 'imagined' something that didn't happen.
You'll also need to be prepared for when a resident passes.   Some people can handle witnessing such an event.  I have always had much difficulty with it, and can't imagine seeing it on a regular basis.  You'll need to assess whether you can handle this.
5) The resident that you accept into your home at first may not be the same resident a year later.   A senior, or perhaps someone with beginning-stage Alzheimer's may move in with relatively few problems or issues, and may be easy to handle and manage, but as his or her condition progresses, they may become very challenging to handle as time goes by.     There's a big difference between a senior who has occasional memory lapses, to a resident who has forgotten how to use the bathroom.
6) You'll, at times, have to deal with 'crazy' family members.   Often times, it is the families who feel a sense of 'loss of control' when a loved-one is placed into a care facility, and if anything goes wrong, real or perceived, they can come out 'swinging' – even if they are mistaken or if it is unfounded.   You may have do deal with 'Helicopter Children' who come by the facility or home at all times of the day (or night) to check on mom or dad.
7) Of course, with everything you have on your mind about making sure your residents are cared for, you'll need to worry about paying the bills, making sure you have a marketing plan, and ensuring that your beds stay filled.   Things happen, water-heaters break, and expensive repairs and state-mandated fixes or additions are all part of the deal.   Expect the unexpected, and although you will have a budget to work with, your numbers will be occasionally blown out of the water by pipes breaking on a holiday weekend, or several beds becoming vacant unexpectedly.
8) You have plenty of competition.  The assisted living market is booming, and it seems like every time I blink, a new care home opens.  I do 'google alerts' for assisted living, and almost every day I learn about new facilities and homes opening their doors.
The competition can be fierce, and you'll need to get used to referral companies using your information to try to place 'clients' into your home, for a fee, of course.   You'll need to have a web presence, ideally facility videos and tours, testimonials, ad placements on search engines, and most likely a printed advertising campaign, with brochures and marketing materials.
So why do it?
I've painted a less than pretty picture of what life might be like owning an assisted living home.  Yes, it is all-consuming, and stressful, and leaves little scraps for you in terms of a personal life.
However, the one thing that I noticed that trumps items 1-8 above that I found that most of the facility owners and administrators I have spoken to share:  A profound sense of satisfaction.
Caring for our seniors is a noble, important, and challenging task, and those facility owners who manage to do it with unconditional love and commitment, and at the same time make an honest and decent living out of it – they have all seemed to me to be incredibly satisfied, and fulfilled on a level that many other professions probably won't offer.
My number one tip for anyone thinking about embarking on the adventure of owning a senior care home:  Hire, and surround yourself with awesome people that you trust, and care for.   Knowing that if you have to leave your facility for a few hours, or to possibly take a day off – that business will be taken care of, and your residents will be in good hands.   Your residents will become your family, and so will the people working for you, and with you.