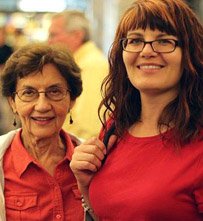 AlthoughStamford does not offer much in the way of smaller, residential assisted living homes, there are a handful of larger facilities operated by some of the larger, more nationally-branded companies located here.
Atria Senior Living, as well as Sunrise both have beautiful facilities here in Stamford, and you'll find them listed here on this page, with photos, and direct contact information. There is also a large facility here operated by Edgehill.
We encourage you to become familiar with Stamford's Area Agency on Aging – SWCAA which stands for the 'Southwestern Connecticut Area Agency on Aging."
Like most agencies on aging, you'll find a great number of services, programs and supports geared towards Stamford's seniors and caregivers including: Adult Day Care; Hospice; Transportation and Veterans Services, as well as a list of assisted living facilities in Stamford and the surrounding communities that the SWCAA services. Intro by D. Besnette
Assisted Living & Senior Care Options for Stamford
Street View See a 'Street View Photo' use the 'map' links below!
Questions about Facility Costs or Availability? 866-333-6550
866-666-1057Pricing & Availability

77 Third Street
Stamford CT 06905
203-327-4551
877-644-2963Pricing & Availability
Map
"…residents will feel a sense of contentment that comes with the right balance of a helping hand from our dedicated caregivers and a variety of activities that exercise your body and mind"
24-hour availability of a trained staff
24-hour wellness staffing
A choice of apartments
A full-time director for events and activities
All utilities provided, except phone and cable
An emergency call system in every apartment
Assistance with activities of daily living
Concierge and reception desk
Delicious meals served restaurant-style each day
Individually controlled heating and air-conditioning
Linen services
Medication assistance
Scheduled local transportation
Wide variety of community spaces
251 Turn Of River Road
Stamford CT 06905
203-968-8393
866-666-1057Pricing & Availability
Map
Assisted Living
Alzheimer's & Memory Care
Short-Term Stays
59 Roxbury Road
Stamford CT 06902
203-322-2100
877-644-2963Pricing & Availability
Map
Assisted Living
Alzheimer's & Memory Care
Short-Term Stays
122 Palmers Hill Rd.
Stamford CT 06902
203-323-2323
1-877-616-7329Pricing & Availability
Map
"Individually tailored support in a familiar environment is the vision behind Assisted Living at Edgehill."
Assisted Living Services & Amenities:
Maintenance-free apartment homes with wonderful views of the park-like surroundings
Cultural, social and educational activities
Specialized dietary services and three chef-prepared meals daily
Freedom to decorate with personal belongings and furniture
Beauty salon
Basic cable
24-hour emergency call and response systems and security personnel
Professional management and staff
Telecommunications device for the hearing-impaired available
Based on individual needs, services are subject to change.
Additional Support
Our certified consultants will help to identify your assisted living needs, and help you through every step of the process. Our Advisors have received their Certified Senior Advisor certification to earn their expertise in Stamford, CT. Our service is 100% free to you!
St Petersburg, FL 33701
(727) 823-2139
888-981-6827Pricing & Availability

MedAssist
– "After my heart attack, I didn't know where to turn. My biggest worry was how am I ever going to pay my medical bills. My wife has a disability and needs on-going attention. MedAssist was able to untangle the mess. Now, my only worry is getting well again." P . P . C .
Stamford Government Ctr. Health Department
8TH Floor, 888 Washington Boulevard
Stamford, CT 06904-2152
Stamford Senior Center
888 Washington Boulevard
Stamford, CT 06901-2902
203) 977-5151
Senior Citizen Activity Center
432 Fairfield Avenue
Stamford, CT 06902-7535
(203) 325-0310
Over Sixty Club
945 Summer St # 2
Stamford, CT 06905-5557
(203) 348-1228
Senior Network
"TSN provides a broad range of FREE benefits to senior activity centers, senior residences, and other mature adult facilities nationwide"
1 Dock St # 608
Stamford, CT 06902-5862
(203) 969-2700