This post will offer an overview of the several special Medicaid Programs and Waivers available to seniors & elders in Connecticut. I'll also provide links to the program pages, which explain each waiver and program in detail, how to apply, eligibility requirements, and more.
You may return to, or visit our Connecticut assisted living page for facility information and more state resources and links.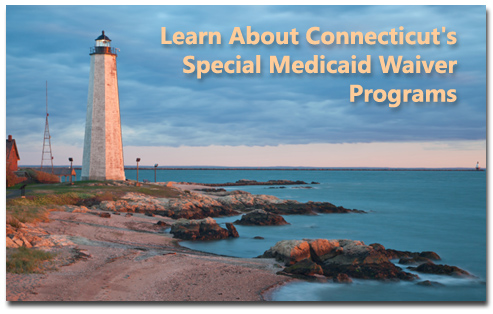 When my mother-in-law became ill several years ago, she had just turned 81, and it came on very suddenly. That summer of her 81st birthday, she was independent, health and very active, and still successfully living at home. 6 months later, she was on a feeding tube, and would never return to her previous lifestyle.
The need to find care for her was thrust upon us very suddenly, and we really didn't know if assisted living was the right choice, or perhaps a live-in caretaker, or perhaps skilled nursing.
Of course, the looming issue was, how much would it all cost, and how would she, and we pay for it.
In hindsight, I wish I had looked into her state's Medicaid Waiver programs, since these will often help with the transitional care, and care at home, saving families a lot of expenses.
Connecticut has a handful of Special Medicaid Programs and Waivers that, although they won't pay for traditional assisted living facility care, they can provide long-term services and supports for seniors still living at home, or in the community. Connecticut's Medicaid Program is known to many as 'Title 19' and is a federal and state program to help fund long-term care and medical services and supports for:
Low-income seniors/aged
blind or disabled individuals
and other qualifying groups with disabilities.
In a nutshell, these programs cover, and are geared towards:
* Recipients that meed certain financial criteria
* Non-financial criteria must be met too (age, disability, etc).
* Location of the residence
* and what type of care is needed.
There is usually a waiting l its, unfortunately, but if you can apply, and get in, these programs may help you and your family significantly to receive the care you need.
The Waivers, and Special Medicaid Programs include:
Money Follows the Person Program (MFP)
CT Home Care Program for Elders (CHCPE)
Personal Care Assistance Waiver
as well as a handful of others.
You can learn about these programs and waivers, as well as contact numbers and links on where to get applications, how to apply, eligibility, and more here:
http://www.myplacect.org/afford-care/connecticut-medicaid-program/
Examples of some of the requirements for the CHCPE Waiver are:
The applicant must be 65 or older
There are established income/asset limits that must be satisfied
and must be able to meet other requirements as detailed by the Waiver.
Many families are disappointed that these waivers do not typically cover assisted living. However, they can serve to "buy time" if a senior can still remain at home, while getting assisted living-type care services brought to them.
Had I known about these waivers and services when my mother-in-law was struggling, we could have most likely kept her in her home longer, where she was happiest.