Assisted Living and most other types of senior care is incredibly expensive.  We're not happy about this, but that's the reality.  The unfortunate part of the high cost is that many seniors and families do nothing, or very little to plan for this until it's too late.
One of the best, first things anyone can do to prepare for this is to get an accurate, un-diluted idea of how much assisted living and long-term care costs.
Of course, this can vary somewhat by state, type of care, and how nice or basic a facility is.
It's also not the easiest topic to get good, solid data on for most states and areas.  However, for Connecticut, we've uncovered an excellent .pdf that lists most every senior care/nursing facility statewide for Connecticut, including information on the facility's capacity, or number of beds, the daily rate, annual rate, percentage annual increase, and other incredibly useful information.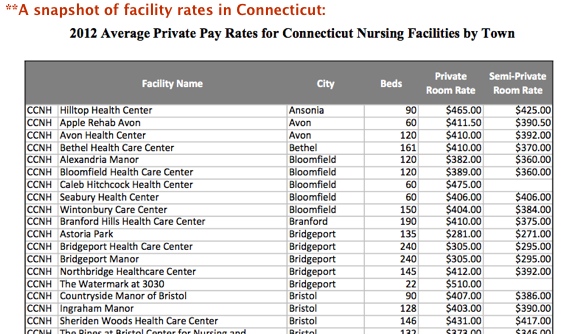 This .pdf is offered through the Southwest CT Area Agency on Aging, and can be viewed here:
http://swcaa.arinsoft.net/wp-content/uploads/2013/11/cost_of_ltc_in_ct_-_2013.pdf
Learn more on our Connecticut Assisted Living page.