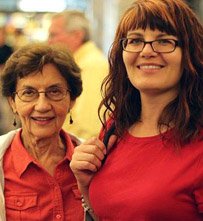 Our site, Assisted Living Directory, frustrates other senior care and assisted living sites. The reason? We offer all of the information you need, and we don't require you to 'send' us your personal information to get it. Our site is straightforward, and we allow each facility to be contacted directly and safely.
We also list other helpful agencies and State data resources to help you with your research.
For Meriden, we want to highlight the Area Agency on Aging of South Central Connecticut, which offers a wonderful, state-sponsored place for you to find out about what's available in Meridan in terms of senior programs, assistance, and senior housing options.
Local Area Agencies on Aging were created through the Older Americans Act, and cover every area of the US. Services include: Caregiver support; Information and Assistance; Adult Day Care; Long-Term Care planning, and much more. You will also learn about other important sites, such as MyPlaceCT which is powered by the State of Connecticut, offering a wealth of information on CT's long-term care and assisted living housing options. Intro by D.Besnette
Meriden, CT - Assisted Living & Senior Care Options
Bradley Home & Pavilion
Address: 320 Colony Street Meriden, CT 06451 Phone: (203) 235-5716 1-866-333-6550Pricing & Availability
Map
Original Life Contract
Respite Care
Residential Care Home
Skilled Care
Address: 845 Paddock Avenue Meriden, CT 06450
Phone: (203) 238-2645
866-315-1354
Pricing & Availability
Map
Traditional Care
ShortStay Care
Long-Term Care
Cardiac Mgmt. Program
Address: 128 Curtis Street Meriden, CT 06450
Phone: (203) 237-1671
888-723-8284
Pricing & Availability
Map
Address: 511 Kensington Avenue Meriden, CT 06451
Phone: (203) 599-0528
888-985-4427
Pricing & Availability
Map
Library
Internet access
Beauty & barber shop
Country kitchen
General store
24-hour snack bar
Private dining room for special gatherings
Outdoor courtyard with garden areas
Community room
Elegant "country estate" nestled among the scenic Hanging Hills
Additional Support & Other Relevant Senior Services
Meriden Senior Center
Address: 22 West Main St., Meriden, CT 06451
Phone: 203-237-0066
Hours: 8:30 am - 4:00 pm, Monday through Friday
Parking: Free parking on Hanover Street
888-502-2057
Pricing & Availability
Website
The Senior Center is a great place to learn about Meal Delivery, Transportation Services, Recreation Programs, Social Work Services for local seniors, and so much more!
List Your Facility - This page is all-inclusive. Any facility in Meriden may appear here!
See a 'Street View Photo' of each facility in Meridan by using the "Map" selection for each listing!
Need More?
***Learn how to find affordable/low-income assisted living statewide (CT) including Meriden using state data and resources.

Learn Facility Monthly Rates