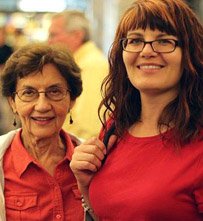 My wife is from Pennsylvania, near Erie. We've spent a lot of time there in the past several years, and last year especially, much of that time was spent, unfortunately, caring for her mother who started declining with her health.
Her decline was so quick, that we really didn't have much time at all to adequately research all of the care options in the area. Of course, there were a few assisted living choices in the city, but we noticed that Pennsylvania is a little different than other states in that there seem to be a lot of businesses outside of many city limits, out in the country. There are many assisted living faciliites that are like this, and ones that you may not notice, or know exist by just driving down 'main street.'
Nonetheless, we quickly learned that researching options was a pretty complicated, confusing, and time-consuming ordeal, especially since time was 'of the essence' to get mom into the propert facility.
With that experience, we hope that this page offers useful informtaton and tools that make it easier on you. We've listed many of the facility choices in and around Erie, as well as several local and state resources that will help you to further your research.
After visiting this page, we recommend checking out our Pennsylvania main page/section for video tutorials, and further information. Each facility listed may be contacted directly and safely, and we also include video tours of facilities as the become available!