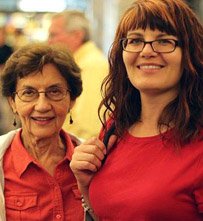 My wife is from Pennsylvania, near Erie. We've spent a lot of time there in the past several years, and last year especially, much of that time was spent, unfortunately, caring for her mother who started declining with her health.
Her decline was so quick, that we really didn't have much time at all to adequately research all of the care options in the area. Of course, there were a few assisted living choices in the city, but we noticed that Pennsylvania is a little different than other states in that there seem to be a lot of businesses outside of many city limits, out in the country. There are many assisted living faciliites that are like this, and ones that you may not notice, or know exist by just driving down 'main street.'
Nonetheless, we quickly learned that researching options was a pretty complicated, confusing, and time-consuming ordeal, especially since time was 'of the essence' to get mom into the propert facility.
With that experience, we hope that this page offers useful informtaton and tools that make it easier on you. We've listed many of the facility choices in and around Erie, as well as several local and state resources that will help you to further your research.
After visiting this page, we recommend checking out our Pennsylvania main page/section for video tutorials, and further information. Each facility listed may be contacted directly and safely, and we also include video tours of facilities as the become available! Intro by D. Besnette
[Video Tutorial] How To See Facility Certificates of Compliance & Inspections/Violations Summaries – Erie, PA
Video Tutorial Produced by Assisted Living Directory
Also learn facility demographic information!
Assisted Living & Alzheimer's / Memory Care for Erie
2628 Elmwood Avenue Erie, PA 16508
(814) 864-4802
866-981-5725Pricing & Availability

"While its origins lie in the Presbyterian Church, Presbyterian Homes is an independent 501 (c) (3) non-profit organization, welcoming all people regardless of their religious affiliation." Map
41 West Gore Road Erie, PA 16509
(814) 864-4867
1-877-616-7329Pricing & Availability
Map
Activity Van Transportation
Therapeutic Spa Services
Chef Prepared Meals Served by Wait Staff Three Times a Day
Snack & Beverage Services
Weekly Housekeeping & Daily Fresh Linen Service
Recreational & Social Events
Emergency Call System
24Hour Professional Staffing
Medication & Nutritional Management
Daily Fitness & Exercise Classes
Assistance with Personal Grooming & Bathing
Catholic Mass and Interfaith Services
Room Service Due to Temporary Illness

Regency At South Shore
322 Washington Place Erie, PA 16505
(814) 454-2222
1-877-616-7329Pricing & Availability
Map

Sunrise at Presque Isle Bay
1012 West Bayfront Parkway
Erie, PA 16507
(814) 455-1630
888-723-8284Pricing & Availability
Map
Alzheimer's & Memory Care
Hospice Relationships
Personal Care
Short-Term Stays
Springhill Retirement Community
2323 Edinboro Road
"Located just a few miles from Lake Erie, Springhill is beautifully situated on 45 wooded acres"
Erie, PA 16509
(814) 860-7042
888-985-4427Pricing & Availability

Courtesy transportation to grocery stores, pharmacies, banks, medical offices, shopping centers and more
Housekeeping
Home maintenance
Flexible dining plans
Flat linen
24-hour security
24-hour emergency medical alert system
Comprehensive care management
CHOICEPlus licensed home care and supportive services

Westlake Woods Assisted Living Erie PA
3302 West Lake Road Erie, PA 16505
(814) 835-0330
888-981-6827Pricing & Availability
Map
Continuing Care Retirement Communities in Erie
[Video Tour] St. Mary's Home of Erie
A wonderfully done tour, and history of St. Mary's Home of Erie, Pennsylvania. Offering seniors numerous services and amenities in a comfortable, welcoming atmosphere. Join us for an hopen ouse every Thursday from 11-1.
St. Mary's East
607 E 26th St
Erie, PA 16504
Phone: 814-459-0621
---
The Carriage Homes of Asbury Ridge
Erie, PA 16506
4855 W Ridge Rd
Phone: 814-836-5316
---
Saint Mary's at Asbury Ridge
4855 W Ridge Rd
Erie, PA 16506
Phone: 814-836-5300
Adult Day Services
Independent Living
Residential Living
Personal Care Services
Nursing Facility
Alzheimer's Care Respite Care
1-866-333-6550Pricing & Availability

Additional Support
Greater Erie Community Action Committee has a wonderful Elderly and Aging services section on their city website that acts as their local Area Agency on Aging– which offers services such as: information and referral; care management services; caregiver support; PDA Waiver and eligibility information; senior center services – and much more!

Our experienced advisors are here to help you to:
Identify which facilities in Erie match your budget
Learn which facilities have vacancies or waiting lists
Help you to understand insurance and payment options
Facilitate introductions with facility administrators and owners
Learn which facilities have the best records with State health and safety inspections
& much more!
This service is completely free to every family we work with.
R.Benjamin Wiley Central City Senior Ctr.
823 Peach Street Erie PA 16501
814-451-5633
Erie West Senior Ctr.
1210 West 8th Street Erie, PA 16502
814-451-4563