As a resident of an assisted living facility in Pennsylvania, you have rights, as dictated by the State, and it's department on aging.
Unfortunately, this information is a bit obscure, and not at the forefront of most assisted living sites or marketing materials.
A snapshot of your assisted living rights in Pennsylvania: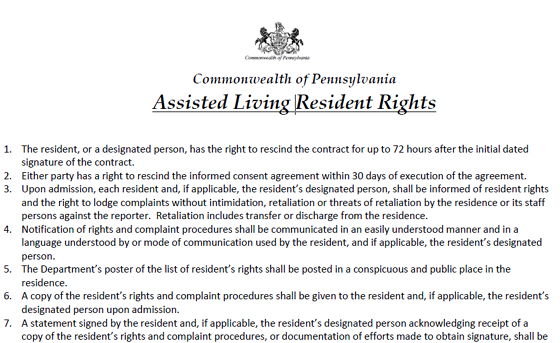 It's important information, since, by being licensed,  facilities have agreed to operate with these rights as a cornerstone of the relationship between the staff, administration and residents.
Assisted Living Directory has produced a short video tutorial highlighting these rights, and where to get a .pdf copy of your own.
There is a great section on the State of Pennsylvania's commonwealth enterprise portal that offers numerous documents and forms relevant to a variety of aspects of assisted living in Pennsylvania.   Included in this list of documents are the Assisted Living Resident Rights.
Go here:
http://www.dhs.pa.gov/citizens/searchforprovider/humanservicesproviderdirectory/index.htm
About 1/2 way down, you'll see the document which can be saved or viewed.
Any licensed assisted living facility in PA should have a copy of these rights, and should be able to provide you with a copy if you request them.
Our video tutorial also talks about what you should do if you feel like your rights are not being honored.
If you are not able to resolve an issue with the assisted living facility's owner or administration,  you might consider contacting your local Area Agency on Aging – each city, state and rural area of Pennsylvania, and the US is covered by one of these agencies, and they can assign you, or get you in touch with a  Long-Term Care Ombudsman, which is essentially an unbiased, state-trained representative who can investigate your claims, or situation, and help you to take action, and resolve the issue.