An Overview of Assisted Living Regulations in Pennsylvania
When my mother-in-law, who lived in Pennsylvania, suddenly needed intensive care outside of her home (she was 81), our family had a very uninformed first-step into learning about assisted living and residential care in her area.    
Most families are thrust into finding care quickly, and knowing where to find fact-based information and data online can be daunting at best.
This is certainly the case if you are trying to learn about regulations, statutes, laws, facility backgrounds, inspections, and records for health and safety.
That's why we want to highlight, and put this information out front to you, here, on Assisted Living Directory.   Our wish is that our site provides genuinely helpful direction and information, even if that means you must venture away from our site.
First, who oversees and regulates assisted living in Pennsylvania?
This title goes to the Pennsylvania Department of Human Services, Long Term Care Services, and their Human Services Licensing Department.
They have a very good website within the DHS, which has a number of useful pages on a number of relevant topics to long-term care.
http://dhs.pa.gov/provider/longtermcareservices/index.htm
The DHS site, at this time, looks like this: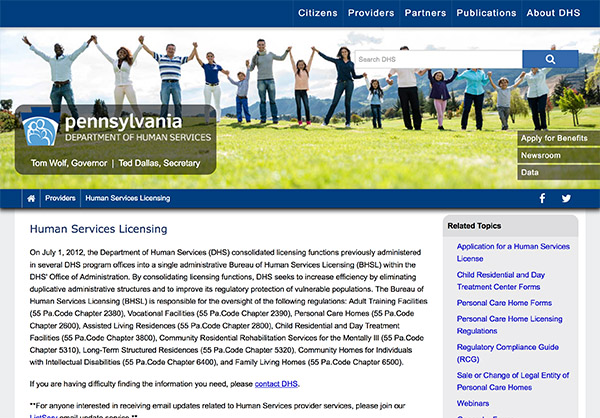 First, there is a contact for anyone who has a question that is not covered within the content of the DHS site.   That contact form is here:
http://www.dhs.pa.gov/Feedback/index.htm?Subject=Long+Term+Care+Provider+General+Inquiry&ContactCode=CONTENTWEB
Next, there is a section for "Personal Care Homes." 
This section offers important documents, all in PDF format, for Personal Care Homes/Assisted Living in Pennsylvania.   Notably there is an Application for Licensure:
Personal Care Homes Application for Licensure
Within the Personal Care Homes area, you'll also see a link to a section for Assisted Living Residences: Policy, Regulations and Interpretation.   Here, you can access the rules and regulations for Assisted Living Residences:
Assisted Living Residences (2800) Regulations
You can also access Interpretations, Regulatory Compliance Guide:
Assisted Living Residences (2800) Regulatory Compliance Guide (RCG)
Next, you can go to a section for Training Information, which includes:
I would also like to highlight another useful tool found in the Personal Care Homes section.  This tool is a General Directory for All Programs within the Human Services Provider Directory.
This will include Assisted Living, Personal Care Homes, and much more.    
Another place to learn about rules and regulations for assisted living and personal care homes is on The Pennsylvania Code site.
Here, you can view, save and/or print an 80 page document (Ch. 2600, Personal Care Homes) Subpart E. Residential Agencies/Facilities/Services which offers rules, general requirements and regulations for Assisted Living Residences and Personal Care Homes in Pennsylvania.
http://www.pacode.com/secure/data/055/chapter2600/055_2600.pdf
I always like to highlight the 'Definitions' section, where the State officially defines terms like 'assisted living' or 'personal care home.'
This is important, since every state is different in how the define assisted living, and many families are surprised (and confused) that there are states that don't even officially recognize the term 'assisted living' – instead opting for something like "personal care home" or perhaps a hybrid term.
For Pennsylvania, the term "Personal Care Home" is defined as: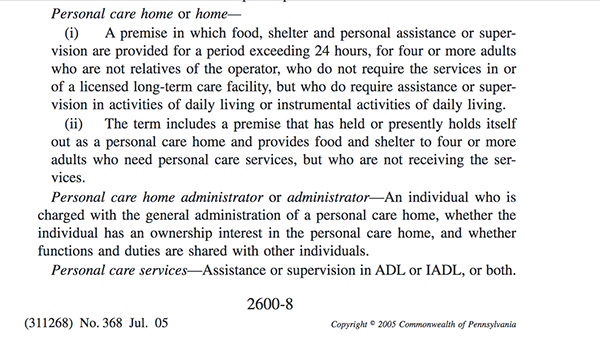 The Pennsylvania Code site also has a detailed section and overview of General Provisions (Regulations) for Assisted Living Regulations.
Chapter 2800. Assisted Living Residences:
http://www.pacode.com/secure/data/055/chapter2800/chap2800toc.html
Here, again, there are many subchapters covering the breadth of assisted living in Pennsylvania, and it also includes a definition for Assisted Living for the State: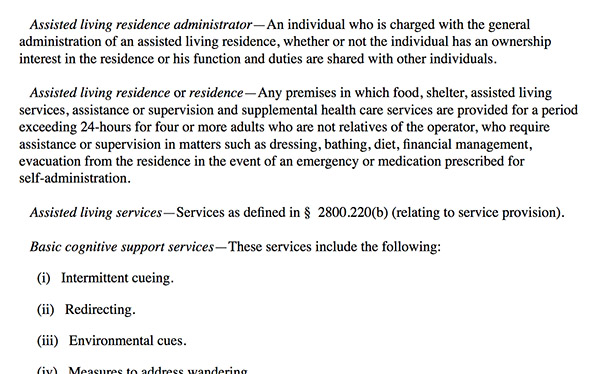 Having and understanding of Pennsylvania's rules and statutes for assisted living is extremely important for families, assisted living administrators and staff, and residents.
They are also very important to 'digest' for anyone interested in opening an assisted living or personal care home.  The many rules, outlined by the reading material provided through the links in this post, should give a fair idea of the level of work, commitment and seriousness that comes with the daily operation of an assisted living home (see more in our "Realities of Owning an Assisted Living Home").