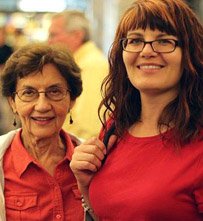 One thing that stood out to us as we were putting this page together for assisted living and Residential Care Facilities for the Elderly (RFCE's) in Clovis is that there is a healthy percentage that are smaller, more residential facilities, as opposed to larger, more 'corporate-feeling' environments.
For the assisted living facilities and senior care options listed here for Chula Vista, you'll find photos, video tours and direct phone numbers to each facility.
This can be favorable or not, depending on your point of view. Assisted Living Directory has heard from many owners and administrators over the years of both large and small facilities who convincingly argue the benefits of each option (see our page and video interview on facility size).
For Clovis, you'll see an interesting video of a local Residential Care Home owner who talks about his unique perspective on what he has seen in terms of many larger assisted living facilities, and how his home offers something different.
Regardless of your preferences, we've included the many facility offerings in Clovis on this page (we also recommend that you take a look at our Fresno page for additional facilities close-by) – each may be contacted directly and safely. Intro by D. Besnette
Two Essential State/Local Research Tools for Assisted Living / Senior Care in Clovis
Video Produced by Assisted Living Directory
Our tutorial will also show you how to learn about facility complaints, inspections and citations!
866-666-1057Pricing & Availability

Clovis Assisted Living: Featured Facilities & Services
Royal Gardens provides 365 days a year, 24 hours a day assisted living for short and/or long term. Specialized care for seniors/elderly, Alzheimer's, Hospice, Respite, Dementia. Custom designed exercise/entertainment care programs for individual client needs. Three Royal Gardens facilities are located in Fresno and Clovis, (Central Valley, San Joaquin Valley) California.
Learn More 866-666-1057Pricing & Availability

A video tour of Laverne Place Care Home, located in Clovis – offering numerous views of both the interior and exterior of this facility. (559) 292-0074
1-866-333-6550Pricing & Availability

We are local to the Fresno/Clovis area and are available to help you to research and identify the best, safest and most appropriate care option that fits your needs, budget and lifestyle.
877-345-1716Pricing & Availability

Assisted Living
Memory Care
Independent Living
Additional Assisted Living & Senior Care Options
675 W Alluvial Ave Clovis, CA 93611
(559) 325-8400
888-502-2057Pricing & Availability

Three restaurant-style meals daily, plus snacks Weekly housekeeping and laundry service
Social, cultural and recreational activities
Scheduled local transportation
24-hour staffing
24-hour emergency call system
All interior and exterior maintenance
2827 Calimyrna Ave Clovis, CA 93611
(559) 213-7251
877-345-1716Pricing & Availability
Map
1488 Whittier Ave Clovis, CA 93611
(559) 297-9438
866-315-1354Pricing & Availability
Map
"Our homes are specially designed and licensed to care for residents who have Alzheimer and Dementia."
305 W Lester Ave Clovis, CA 93619
(559) 297-5224
866-981-5725Pricing & Availability
Map
Non-Medical Home / Family environment
Trained, supervised, loving care givers
Medication management
Doctor appointment tracking
Transportation arrangements
Full meal service
Fully furnished rooms
& much more!
51 Barstow Ave Clovis, CA 93612
(559) 299-2263
888-985-4427Pricing & Availability
Map
425 W Kelly Ave Clovis, CA 93611
(559) 322-5727
1-877-616-7329Pricing & Availability
Map
24 hour care and supervision for seniors
5 locations in highly desirable neighborhoods
Additional Support
How to look up Facility Quality Ratings – California Statewide
Interesting questions and comments we have received about assisted living in Clovis:
Q: Hello. My grandma's doctor informed us early this morning that she needs to move to an assisted living facility asap because she is no longer able to safely stay in her apartment alone due to numerous falls. She is low income. She currently lives in a senior facility in Clovis with income based rent. Are you aware of any availability in a low income assisted living facility in or near Clovis that is income based? – Deb