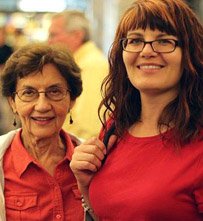 This page was put together by Assisted Living Directory to provide a useful starting point for your research into it's assisted living facilities & senior care options available in Apple Valley.The facilities on this page may be contacted directly!
The town of Apple Valley, located in San Bernardino County, is no doubt an attractive spot for seniors and retirees. Apple Valley prides itself on it's wide-open blue skies, dramatic landscapes, warm, sunny weather, and an abundance of recreational, social, and housing opportunities here.
Seniors, families and caregivers of Apple Valley have a great support network available at just a click of the mouse away. The Department of Aging and Adult Services of San Bernardino County is 'dedicated to helping seniors and at risk individuals to improve or maintain choice, independence and quality of life.' A multitude of excellent services and programs are available, including Adult Protective Services; Caregiver support programs; Long-term Care Ombudsman help, and much more. Intro by D. Besnette
Apple Valley Assisted Living: Featured Facilities, Video Tours & Services
We are Residential Care for Elderly,our staff highly train to takecare of you love one 24 hours ,7 days week , we offer 3 meals and snacks, we have different type of activity, all rooms has their own TV and also wifi for Internet.
866-981-5725Pricing & Availability
Learn More
Welcome to Valley Crest Memory Care in Apple Valley, California – the ideal choice for seniors seeking a comfortable, stylish and intimate assisted living community.
888-985-4427Pricing & Availability
Learn More
Rimrock Residential Care Homes are designed for senior adults who are unable to live safely and independently within the comfort of their home. Our goal is to provide a safe, family environment and encourage each resident to function at their top level of independence. With 24 hour assisted care, many residents have an improved quality of life and decrease in injuries.
866-315-1354Pricing & Availability
Learn More
This video details the Apple Valley Christian Care Center which is 'owned and operated by a 501 ( c ) 3 not-for-profit corporation.' This facility has 99 beds, and offers skilled nursing and quality care to residents – both short and long-term care – in a caring, healing environment. AVCCC also offers hospice care if needed. (760)240-8150
888-502-2057Pricing & Availability

Assisted Living & Senior Care Options for Apple Valley
13775 Kiowa Road
This home offers residential care services. License Number: 366405846
Apple Valley, CA 92307
760-247-4921
1-866-333-6550Pricing & Availability
Map
21160 Highway 18 Apple Valley, CA 92307
Provider type: Assisted Living, Residential Care and Facility for the Elderly. License number 366424546
760-240-6306
888-723-8284Pricing & Availability
Map
20337 Ottawa Road Apple Valley, CA 92308
An assisted living/residential care home. Capacity/Beds: 6; License number 366423859. Additional licensing includes Hospice.
760-961-9070
877-345-1716Pricing & Availability
Map
20751 Standing Rock Avenue Apple Valley, CA 92307
An assisted living residence licensed for 6 residents, and is also licensed for hospice and non-ambulatory residents.
760-961-9887
888-723-8284Pricing & Availability
Map
21292 Chardonnay Drive Apple Valley, CA 92308
The Vineyard Residential offers residential care, assisted living for those folks who are 60 and above. License number: 366424426
760-961-2658
866-666-1057Pricing & Availability
Map
"Find our more about Valley Crest memory care in Apple Valley, offering 24×7 trained staff, 3 meals a day plus snacks, daily housekeeping, supervised medications, and much more in a secure, caring environment.
18524 Corwin Road Apple Valley, CA 92307
760-475-9109
877-345-1716Pricing & Availability

Assisted Living Directory has helped 1000's of families (including our own!) to connect with great care facilities!
Tip: Did you know that one of the most comprehensive resources available for finding assisted living services in Apple Valley is through the CalQualityCare.org site? This site offers a very comprehensive and commercially unbiased database of care providers throughout California, and also offers ratings on many of them! We also have a video tutorial on finding care in California using trusted sources and data!

888-723-8284Pricing & Availability