I have a personal story about trying to decide if in-home care was the right decision for a loved one.
I know our site is focused on Assisted Living, but I do believe there are a few instances where In-Home Care may be the better, or only choice.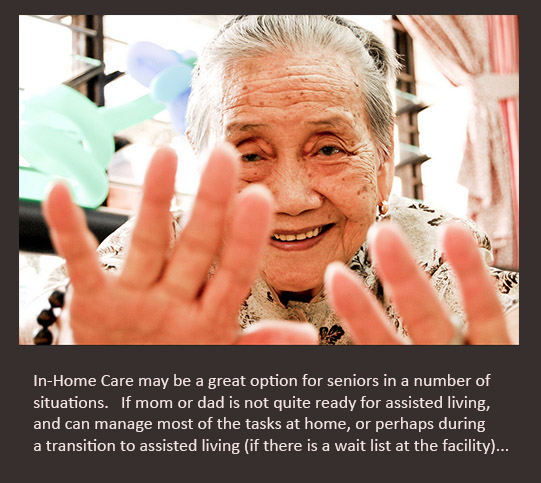 A few years ago, my mother-in-law was in deteriorating health.    She was 81 at the time, and up until age 80, she was a fireball of energy and health for her age.  Then it all started going downhill.
The nutshell version is that she developed cancer, and then Dermatomyositis.   The first, Cancer, was more easily dealt with in terms of her being able to remain independent and at home.  Of course, there is the nastiness of treatment (chemo) and surgeries that were being dealt with, but she did just that – dealt with it like a champ.
But, then the other nasty appeared – her autoimmune disorder Dermatomyositis, which, to me, was worse.   
As a family, we knew nothing about this awful malady, so we didn't respond to it as we should have when it appeared.   
Essentially, it was a slow progression of her getting weaker to the point where she couldn't even lift her arms to adjust the blinds in her home.
We didn't know this at first.  She didn't volunteer this information, and we (her kids) live in another state.  We spent a lot of time traveling back and forth to care for her, but it was in between one of these last visits that everything went over the 'event horizon' for her.
It was clear that she could not manage by herself any more.
Being so independent (her husband passed away years prior), she was not very open to the idea of assisted living.   To add to this, all of the facilities in her area had wait lists for months, and she also had some medical interventions that make assisted living facilities reluctant to accept – namely, she was having to use a feeding tube more and more often since her throat would swell up so badly she couldn't swallow.
This is where we started considering in home-care.   
Many days, mom would be able to move about her house, and do many of the activities of daily living, but she needed help reaching things, bathing, and some of her chores.   Home care would have been perfect for this.
We knew that the inevitable was closing in – needing to move to a full-time facility, and her being able to realize this would have come sooner or later as her health went downhill.
For a short time, we did hire home-care workers to come by daily.  This was an incredible help, and allowed her to stay at home, and gave us peace of mind that her needs were being met.   
Additionally, she benefitted from the social interaction, the reduced anxiety of having to manage everything in her home, and getting the proper healthcare and hygiene help she needed.
Unfortunately, this stint with home care didn't last long.  She passed away within a short period of time, in a hospital, before she even had a chance to consider long term care or assisted living.
In Home Care, however, was a temporary lifesaver where there were no other options.
Home Care can be a good choice in the following situations:
If you have already decided that long-term care or assisted living is the right choice, but there is a wait list at the facility(s) that you are considering.

   

Home care can be great during transitions, waiting, or during the actual move to long-term care.
 Mom or dad is not quite ready to commit to moving.   Our mom was in this camp. Stoic, independent, and "I'll have none of this talk of moving" attitude.
You can't easily force someone to move against their will.  However, they will often time reconsider assisted living as an option as their health deteriorates to a point that it is clear that full-time care is needed.   Until this happens, Home Care can fill in the care gaps.
If you live in a rural area, or in a town where there simply isn't assisted living or long-term care, often times there are licensed Home Caregivers in the area, or county that can check on mom or dad daily, or a few times a week.    One great place to visit to find out about many of the resources and care assistance available to you is your Local Area Agency on Aging.  Every town, city, and county of the US is covered by one, and these agencies (which are backed through Federal and State resources) can help to direct you to the right agency or person to help you to find a caregiver, or support.
How to find In-Home Care/Caregiving Support?
 Start by asking friends or family.

 

Often times, your personal network will provide you with leads to qualified people or referrals.

   

That's how we found help for our mom – through asking neighbors.
 Again, your Local Area Agency on Aging can usually direct you on how to find the assistance you need.
Check in with your local senior center if you have one.   There are a lot of folks there 'in a similar boat' as you or your family member, and likely, someone there has gone through the same situation as you in terms of finding care for a loved one.
Final Thoughts
It should not go without being mentioned that whomever you consider to help with your loved one (or yourself), they should be thoroughly checked out before committing.  Do reference and background checks, ask for personal references, and ask to see their qualifications and any paperwork such as certificates, resumes, or special trainings.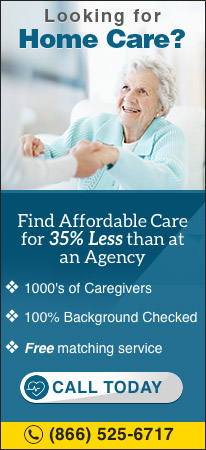 Photo by F. Fajardo