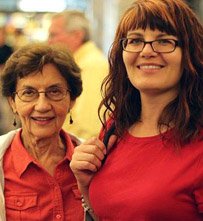 Summary: A personal first-hand family account of the difficult task of placing a senior loved-one into assisted living or another care environment who is suffering from Dermatomyositis.
Written By: David Besnette – Founder/Editor for Assisted Living Directory
I'd like to share with you a very personal, non-clinical view of why assisted living may or may not be a good option or choice for a senior facing Myositis – specifically, in my family's case, Dermatomyositis.
I have to start by saying that a little over a year ago, I had no idea what this condition was. After I first learned about it, I didn't really think it was that serious. I mean, anything with Derma, or skin, should be treatable, and is only external, right?
I couldn't have been more wrong. This disease ended up costing my mother-in-law her life in a very short period of time.
The Horrors of Dermatomyositis
About two years ago, my mother-in-law, who was turning 80, was the rock-star grandma/mother that did everything, and could do anything. She actually wore the rest of us out with her boundless energy, never-ending to-do lists, and constant conversation. She was a true fireball with high-water pants and a strong 'Yinzer" accent. She doted on her grand kids, and spoiled them pretty soundly.
On one of our last visits cross-country to visit her during the summer of 2010, we noticed something was a little off with her. She seemed like she might be finally slowing down, and since she was starting to blow past stoplights and becoming a bit of an erratic drive, we figured that possibly assisted living might be in her near future.
We were right, but wrong at the same time. Turns out that she had Uterine Cancer Stage 3, and it had spread throughout her body. That explained to us the compromised energy level and generally worn look about her.
My mother-in-law is a weird sort. She is very conservative in many ways. A devout church-goer, and a teetotaler to the nth-degree. On the other hand, I think she is a born-again granola from the 60's. Everything organic, yoga and meditation, and supplements all over the house. She was a model of health and vitality. This, however proved a bit of a problem, as she really resisted the idea of traditional chemo/radiation.
[Video] Basic Overview of Dermatomyositis
I originally included this video, as it gives a very basic overview of the "lighter" stages of DM. I received an email from one of our site visitors, who has a lot of problems with this video since it downplays how serious it is. She makes a great point, and I did a post about how Dermatomyositis Is Deadly Serious – as it cost my mother-in-law her life in a very short period of time.

This worried all of us, since her condition was pretty bad. Thankfully, she relented and decided to go the traditional, toxic route. We didn't like the idea either, but to us, there was really no other option.
She beat it – so we thought. About a year later, and after countless treatments and bodily invasions, as well as surgery to remove her uterus, she was, by all appearances, on the mend, and possibly cancer-free.
A Celebration Too Soon
To celebrate her newfound health, and slowly reappearing hair, we took my mother-in-law on a trip to the beach at one of our favorite spots in California. She made the trip from Pennsylvania on her own and we spent a week in the sun – a family on the mend.
She was a fireball again – charging up and down the steep hill from our condo to the pier and the beach. She was tireless, and her old Yinzer sparkle and grittiness was starting to re-emerge.
This was in July of 2011. By May of 2012, she would be gone.
She left from our wonderful trip to get back to her life, friends, and newfound lease on life. Remotely, we thought everything was going great, and that we would see her again at the holidays.
By October, we started to wonder if something was off again. One of the main problems we had with my mother-in-law is that she is pretty proud, stubborn, and stoic. She doesn't like to complain, or be a bother, so on the phone, everything was fine. Her voice, though, was getting raspy, and her characteristic hour-long Sunday phonecalls to us were getting shorter.
Something was up.
It wasn't until a neighbor came by to check on her in the fall that she noticed that our mom couldn't raise her arms to open and close cupboards, or to adjust the blinds. The neighbor called my wife, who she had known from growing up in the neighborhood, to tell her the disturbing thing she had just witnessed.
Mom, as it would turn out, had Dermatomyositis.
Of course, standard protocol for this condition is plenty of meds that are very toxic, and very hard on your body. Mom started taking these, but to only be met with nasty side effects, fatigue and all the rest. Still, she remained stoic, insisting she could manage life on her own. We believed her.
As we neared the holidays, we were looking forward to seeing mom, but we were also anxious to get a first-hand assessment of her condition. However, we never made it to that point. Again, a well-intentioned neighbor went to check on her, only to find mom 'scooching' on her back on the floor to get from room to room. She couldn't stand up anymore, and didn't bother to tell anyone. She went to the hospital that day, and never again returned home.
Hospital, to Skilled Nursing, to the Hopes of Assisted Living
Mom spent several months in a hospital room, barely able to move, unable to swallow, and essentially bed bound. She hated it, and wanted to go home. However, her condition warranted round-the-clock care and supervision. She was placed on a feeding tube, and for the rest of her time on Earth, that is how she enjoyed her meals.
Once her coverage at the hospital ran out, she was transferred to a Skilled Nursing facility nearby who could handle her condition, and the feeding tube. This facility was not a 'choice' but was the default place that she had to go, as there were not other places in the area with the care available that she needed. She was an advanced case.
This facility she was living at – she hated it as well. She knew nobody, and it was stuffy, and too hospital-like. She wanted the option to move into an assisted living facility. Some friends of hers lived in a facility not too far away. She wanted something better.
Remotely, my wife and I (and her brother and his wife) started researching the possibility of assisted living, either in her state, or perhaps nearer our family here in Colorado, or perhaps in Michigan where my wife's brother lives.
We struck out on ever attempt, and almost universally got the same reply from all of them. "We can't accept a resident who is on a feeding tube." That was the answer across the board. Many of them said that if we could get her off of her feeding tube, they would reconsider.
So, from there, our mission and goal was to get mom eating and swallowing correctly. Mom would have a formal 'swallowing test' every few weeks, and every time, she failed. Her spirits were always positive and good, but we knew her condition was rapidly deteriorating.
Her only request was that she did not want to die in the skilled nursing place she was in. She wanted to pass at home. However, she was too weak to move, and the hospital, her doctor, and the nursing facility would not ok her to travel.
In vain, we went back to trying to get her to eat solid food. It never happened.
Mom passed away in May of 2012 in the nursing facility she hated so. We were all saddened that we could not get her out in time – to a more comfortable place to heal, or to live out her days.
In the span of 10 months, she went from healing, tornado-of-activity grandma to moving on to the 'next great adventure.'
I wish that I could say that assisted living is applicable and appropriate to a seniors with Dermatomyositis. I think that, as in our mom's case, knowing that she was on the quick decline, Skilled Nursing, or perhaps intensive, round-the-clock in-home care were the only real viable options. We all think that the chemo and treatments she endured for her Cancer probably accelerated her Dermatomyositis, and compromised her immune system.
I would submit though, for anyone going through a similar situation, to research options as far in advance as possible, and to ask pointed questions about things like feeding tubes, and what happens if mom is placed into assisted living care, and they can not longer handle her (or dad, if that is your case). Depending on the severity of the condition, assisted living may be a good option, especially if there are plenty of facilities to choose from in your area. In other cases, as in ours, it may not be realistic.
As I have learned, this is a progressive condition, and is only likely to get worse as time goes on. Ideally, so a loved-one isn't faced with multiple moves, finding a Continuing Care facility that offers a combination of assisted living and skilled nursing services under one roof would probably be an ideal situation.
For us, we actually solicited the help of a certified senior care advisor, who, for us, was extremely helpful. Just having someone knowledgeable with state laws, as well as assisted living regulations, eligibility requirements, and who had a network of contacts in the industry – was invaluable to us during the process.
Responses to this article:
Assisted Living Directory Wrote:
Michelle, you are so kind to write such an honest, caring comment. I really appreciate it so so much. You are right, too, that there is so little out there, and even after my mom's (in-law) experience, I still don't understand it much. I do know this, that she survived the cancer. What did her in was the DM, and within less than a year she went from healing and vibrant to being on a feeding tube. We think her doctors were pretty uninformed, C-students about it too, so in hindsight, we would have liked to get 2nd, 3rd, and 4th opinions on it. You've inspired me to do a video about her, and our experiences, which I will try to do in the next week or so. Michelle, again, thank you for your feedback and kind words! So incredibly appreciated.
4 September 2013 at 2:07 pm
---
Michelle Wrote:
I'm so sorry for your loss. My heart goes out to you and your family. I found your story by searching for dermatomyositis on Google+. I have DM and it's so rare it's hard to find articles, or people for that matter. I noticed the video you have on here, I have so many issues with this video. It makes the disease sound like 'a flu' and she also says something about 'around 2 years' and then it's gone. It makes me wonder if she's ever really dealt with the disease. Let me say I am in no way berating you for linking to the video, if you search for DM this is the first vid that pops up and most others are too clinical. DM is such a misunderstood disease not only because it just sounds like a skin condition, but because there's not much about it online. That brings me back to that video…I wish there were more info about it out there. Thank you for writing your article and sharing your story. Awareness is key in finding a cure. Hugs to you and your family. I'm really so sorry for your loss. Michelle
4 September 2013 at 2:05 pm
---
David, Thanks for sharing your story with us. It must have been a difficult time for all of you. Your idea to consider an assisted living facility that also has a skilled facility on-site is a good one. I'm curious if hospice would step in with this diagnosis and help provide home health care.
Your MIL sounds like she lived a full and happy life and had the success of beating cancer. I am very sorry for your loss and hope you and your wife and the rest of the family have wonderful memories of her to keep in your heart.
The beach picture is fantastic, by the way! Trish
22 January 2013 at 11:02 am
---
Kim Wrote:
Thank you for sharing your story. I am sure it will be helpful and supportive to others dealing with this awful condition.
15 January 2013 at 2:23 pm