I received an email recently from one of our site visitors, commenting on our page about Dermatomyositis and assisted living.  She commented that it's a helpful page, and she genuinely wanted to express her condolences and sympathy for what happened to my mother-in-law, who succumbed to this horrible condition at age 81, after successfully beating Cancer.
This kind person who sent the comment in watched the video that I embedded on the page – a video of a nursing giving a general overview of Dermatomyositis.   Her problem with the video is that she downplays the seriousness of this disease, basically saying it is a skin issue, causing rashes, pink cheeks, and other fairly non-serious issues.
She does not, however, describe the more serious end of Dermatomyositis.  Although she does say that people get progressively weak, she stops short of saying that anything worse can happen as a result.  She implies that many or most people can stop the progression, and even reverse the effects of DM.
Her email:
"I'm so sorry for your loss. My heart goes out to you and your family. I found your story by searching for dermatomyositis on Google+. I have DM and it's so rare it's hard to find articles, or people for that matter. I noticed the video you have on here, I have so many issues with this video. It makes the disease sound like 'a flu' and she also says something about 'around 2 years' and then it's gone. It makes me wonder if she's ever really dealt with the disease.  Let me say I am in no way berating you for linking to the video, if you search for DM this is the first vid that pops up and most others are too clinical. DM is such  a misunderstood disease not only because it just sounds like a skin condition, but because there's not much about it online. That brings me back to that video…I wish there were more info about it out there. Thank you for writing your article and sharing your story. Awareness is key in finding a cure.  Hugs to you and your family. I'm really so sorry for your loss." Michelle 
Make no mistake, Dermatomyositis took my mother-in-law's life in a very grim, uncomfortable way.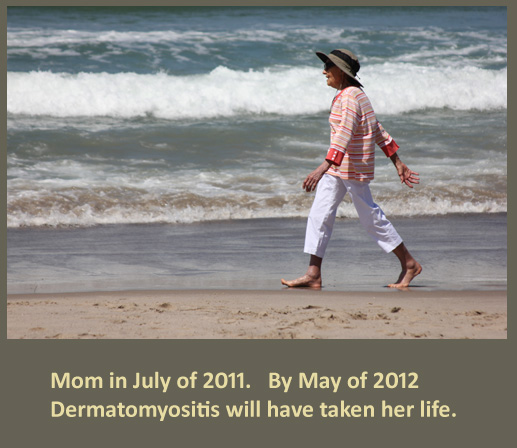 Sure, mom, back in July 2011, when she was just coming off of beating Cancer was having some other unusual, slight symptoms, such as general weakness and fatigue, we thought it was really just due to the massive chemo she had just gone through.   She seemed like she was on the mend, and even joined us on a great summer vacation to California.
By October, she was having trouble lifting her arms to open cabinets, and to adjust the blinds.  She was finally diagnosed with the beginning stages of DM.
Ever resolute, she soldiered on in life, determined to live many more years in relatively good health, and with her new lease on a cancer-free life.
Not to be, though.  Within another few months, she couldn't even walk.  She had, as we found out, resorted to crawling around the house, always stoic, not wanting to ask for help.   She was on a heavy regimen of the usual-suspects of awful, toxic meds needed to treat this condition – all which seemed to not help at all or just make things worse.  Additionally, her living in a more small-town, rural area provided her with what we thought was a "C-Team" of choices for doctors.  Seems like one doctor would recommend one course of action, and another would completely contradict that.   Nobody seemed sure about the best course of action to treat it.
By spring, mom had been placed in a Skilled Nursing facility.  She was on a feeding tube, unable to move at all, really, and confined to a bed.    We wanted to research more homelike assisted living facilities in her area, but unfortunately, none would have her as long as she was on a feeding tube.   We were told that she would be a candidate as long as she could eat – so that was the goal during that time, to get mom off of the feeding tube, so we could get her out of the nursing environment that was not of her choosing, into a facility that was more comfortable and possibly housed friends of hers that she knew.
It was never to be.  Mom passed away in May of that year, about 7 months after initial diagnosis of DM.   Weakened, unable to do anything for herself, attached to tubes, we think she just gave up.   Her existence was one of extreme discomfort and misery.
So, please don't ever let someone say that DM isn't, or can't be a serious, life-threatening issue. Of course, there are those who do well, and overcome it for the most part, just like anything else.  But, it can, and does kill (to not sugar coat it).
I hope that clears it up, and adds to the "overview' video I included.   DM has a wide range of symptoms and seriousness, and it not simply confined to skin issues and general flu-like symptoms.
Dermatomyositis can be deadly serious.
For More:
http://www.mayoclinic.com/health/dermatomyositis/DS00335
https://www.assisted-living-directory.comcontent/dermatomyositis-assisted-living.cfm