A question came in this week through out blog, asking "I need affordable assisted living for my mother that won't kick her out when her money runs out."
Interestingly, I get this question, in one variation or another, quite often, and unfortunately it's a tough question that's even tougher to answer.
A roundabout way of answering it would be to say "Why do you think there are so many family caregivers in our country?"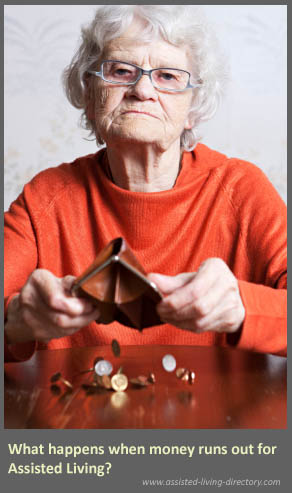 The truth of the matter is, if you or a loved one is living in an assisted living facility, and you run out of funding, and have no backup plan, the last "person" or entity that is likely to show you or your loved one any compassion or understanding is the facility itself.  Let's face it – most assisted living facilities are for-profit enterprises, and an assisted living bed is valuable if filled, and a huge liability and drag on the cash flow if empty, or filled with a non-paying resident.
Evictions are common with assisted living facilities, and I would submit first and foremost for anyone considering any care environment outside of the home to get a copy of all of the facility's policies, including for dismissals or evictions, and what specific policies are in place for residents who suddenly cannot pay.
Moving a resident out of a facility, especially an elderly resident suffering from Alzheimer's or dementia can be a traumatic and confusing experience, so avoiding eviction through proper pre-planning should be every family's goal.
Of course, for those of us out there who have properly planned for retirement, and have a tidy nest-egg, as well as supplemental insurance (Long-term care insurance generally covers home care, assisted living, adult daycare, respite care, hospice care, nursing home and Alzheimer's facilities), and other backup plans, you'll probably be ok.
However, many of us (as evidenced by a recent fascinating Frontline documentary "The Retirement Gamble" that exposes how ill-planned most of us are when it comes to saving and planning for our retirement years) have not planned, and are in for quite a sticker shock when we are suddenly faced with illness, Alzheimer's or cannot continue to manage the Activities of Daily Living.
According to Genworth – the cost of care for a private, one-bedroom assisted living facility room, per year, is for most states between $40,000 and $50,000
Learn the cost of care in your state: https://www.genworth.com/corporate/about-genworth/industry-expertise/cost-of-care.html
Rates can vary depending on the level of care, and location. Nursing homes can be quite a bit more expensive.
Needless to say, a Social Security check alone probably won't come near covering this.
So what happens when the money runs out?
Unfortunately, if there are immediate family members, the brunt of the care can fall on them.  Often times this resides on the shoulders of sons and daughters, who often times are sandwiched between caring for aging parents, and their own younger kids – all the while juggling work and their own finances.
For seniors who don't have close family who will step up, a state's Social Services department  or an Area Agency on Aging may step in to try to find a solution.   This may come in the form of home-care, meal delivery, daily check-ins by social workers, and occasional transportation to appointments and shopping.
Understandably, this type of care can't match what is found in most private, more expensive care environments, and may lead to isolation and loneliness for seniors who can't afford assisted living.
The picture isn't pretty in many cases.  There are thousands upon thousands of cases where seniors are neglected, and un-cared for when they need it the most.
Giving yourself a reality check when you are still healthy and 'young' by researching what assisted living will cost if and when you will need it, and planning accordingly is the only way to really avoid being denied care down the road.
As one of the consultants in the Frontline documentary says "Start planning in your 20's and 30's for retirement costs. If you wait until your 40's or beyond, your ship has sailed."
A sobering reality indeed.