I think when the need for assisted living comes, it really takes so many people by surprise, that they don't quite know how they're going go afford it, or pay for it.  Unfortunately, often times assisted living is private pay, and there isn't a whole lot of 'help' from the state if you wish to live in an assisted living facility.
It's expensive – take a look at the graph and info below: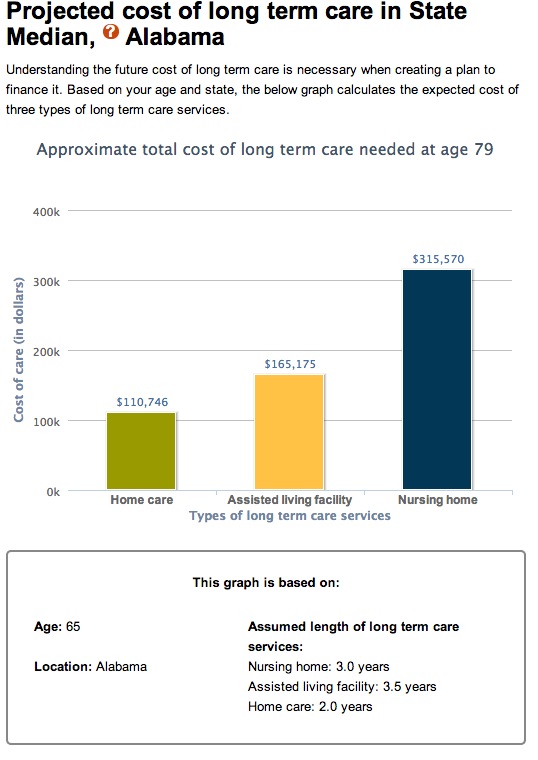 (source: Genworth.com)
So, families are often times have sticker shock, naturally, when they first begin to research care options.
However, what they don't know, is that there may be state assistance available to you if you are a senior (or have an elderly loved-one) who needs help, or care.   This assistance may come through a "Medicaid Waiver" – each state has different versions of this, usually under different names, and covering different services, demographics, and circumstances.
For Alabama, it's the Elderly and Disabled Waiver, or "E&D Waiver."
There is an excellent .pdf document providing an overview of Medicaid, and Alabama's different "Home and Community-Based Waivers" (HCBW) – of which the E&D Waiver is a part of.
You can access, print, and download this valuable document here:
http://adap.net/pdf/alabamamedicaidtrainingppt.pdf
The Elderly and Disabled Waiver has it's limitations, and is intended to keep seniors or individuals living in the community, receiving services, as opposed to living in a more structured care environment, nursing home or facility.   There are limited slots, so if those are full, you may indeed be placed on a waiting list.
Services that may be provided under this waiver include:
Case Management
Personal Care
Respite Care
Homemaker
Adult Day Health
Companion Services
* Home Delivered Meals
(a) Frozen Meals
(b) Shelf Stable Meals
(c) Breakfast Meals
These services are similar to what might be provided at an assisted living or residential care home.
*See assisted living facilities in Alabama – including further state resources and agencies, as well as how to look up facility inspections and complaints.
If you are not accepted or have trouble finding support or care through the waiver program, it might be wise for you to check with your Local Area Agency on Aging.  Each state, city and area of the US is covered by one, and they are funded largely through State and Federal Resources. These agencies can also work to provide care and support for seniors through a variety of programs and services.
To learn more about Agencies on Aging, and how to find yours specifically for the area or city in Alabama, we have a detailed overview here: