This February Going RED to Keep your Brain Healthy & Strong:
By Dr. De Leon

I can't believe that the holidays have zoomed by and we are now entering the month of February! As we begin to plan for Valentine's Day theme events for our assisted living & nursing home institutions and decorate the walls with crimson colors, I want to you keep another meaning for the color Red in mind.
Red is my favorite color in the whole world and hope it becomes one of your favorites soon if not already. How apropos that scarlet it is the color for the two things I am most passionate about in this life, Parkinson's Disease (symbolized by a red tulip) and Brain/stroke awareness who's emblem is none other than a RED dress!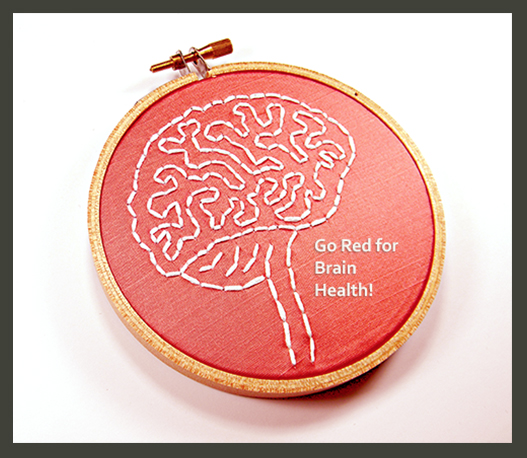 I am sure that most of us in and out of these assisted living facilities know someone living with Parkinson's disease or someone who had a stroke. The risk of having either disease increases as we age; therefore we must be educated to learn the risk factors to prevent them. I will focus my attention on strokes at this time since this is a potentially preventable disease if we are aware of what makes us more likely to suffer from this condition.
Somethings we simply cannot change like our age and our family history but there are things we can do to decrease our likelihood of developing cerebrovascular disease. Strokes can occur at any age but the risk increases as we get older.
Risk factors for stroke are:
Advancing age: ** this is the single most important risk factor!
Gender: men are at higher risk for all age groups- although women are catching up fast especially post -menopause. In a recent blog posted in Neurology Now– Dr. Song discussed her findings which revealed women as having more stokes than men and becoming more devastated after the attack due to being older in age and living longer compared to men.
Ethnicity: Minorities such as Blacks, Hispanics, Native Americans and Inuit's have a higher risk than Non-whites or Asians. Blacks and Hispanics have a twofold risk compared to whites. Furthermore, blacks have a higher likelihood of dying from a stroke compared to whites.
Previous TIA (transient ischemic attack) or "mini-stroke": increases your risk of having a stroke
High Blood pressure: talk to your doctor about the new blood pressure guidelines which have been reduced so you may now be in the high blood pressure category.
High Cholesterol: this can lead to narrowing of the arteries thus causing decrease blood flow to the brain
Heart disease: due to poor pumping of the heart the brain can be deprived of oxygen.
Physical inactivity
Obesity
Alcohol intake: can lead to increase high blood pressure just like smoking; but also increases triglycerides which hardens your arteries. Women are recommended not to drink more than 1 drink a day while men can drink no more than 2 a day.
In women:
Birth control pills / hormone replacement increased risk
Migraines with aura
Atrial fibrillation
Depression/other mood disorders
It is important to note that women with PD have higher risk of stroke compared to men with PD whether its due to actual neurodegenerative disease, medications or just because women are at higher risk as I described above is not well understood as of yet.
The first step in preventing disease is awareness- by wearing RED you will be helping to spread knowledge and awareness in your communities. Second is beginning to make changes to your own life to achieve desired effect of a healthy brain.
What do you have to do to go RED this month, you may ask?
First, put on your favorite red lipstick, slacks, pants, shirt, or dress and start by making up your mind to take care of yourself!
Then talk to your doctor ASAP about the risk factors that you might have which can be changed and modified to decrease your risk of having a "brain attack" like weight, cholesterol, smoking, drinking, high sugars and blood pressure. Start exercising if you have not been doing so. The best form of exercise therapy is one that you can maintain over a long period of time – engage some friends to join you, this will make it more fun. Being the month of love and friendship perhaps you might persuade a friend, a loved one, or the whole group to do some dancing.
Dancing Tango is a great way to stay fit and get close to that special someone. Consider asking your facility to institute dance night once a week or another group exercise activity such as tai-chi, if one does not already exist. The beauty of these forms of exercise is that they can be performed even if wheelchair bound! Of course without a good diet, it will be hard to maintain a healthy brain.
I further recommend doing some fun and nutritious meals by adding color especially some reds to pop and spice up the food (these are foods which are high in antioxidants, vitamins, and cholesterol lowering properties). Colorful things especially with vermillion colors mixed in become much more appetizing. This is because we look at our food before eating it thus releasing chemicals from the brain even before our taste buds begin to function. Try an avocado, tomato, and cucumber salad. Or simply add some nuts and cranberries to your salads, drink a pomegranate juice (much healthier than orange juice) or add pomegranate to your Mexican rice. Not only will your taste buds thank you but so will your brain.
Finally, learn the FAST acronym for stroke and make sure you teach it to the rest of your staff, and friends. Time is Brain!
F-ace: look for asymmetry
A-rm: weakness on one side
S-peech: slurred, distorted, unable to speak
T-ime- call 911-it is of the essence
By Dr. Maria De Leon exclusively for Assisted Living Directory
Photo by Hey Paul Studios under Creative Commons Attribution 2.0 Generic
Sources:
American Heart Association/American Stroke Association. Understanding Risk
SARAH SONG, MD, MPH, "Stroke Survival Tips for Women" Neurology Now, Monday, January 18, 2016  and tips I share with my patients, which I hope you find helpful." bit.ly/NN-Song