I received an e-mail last week from the folks at Maryland Access Point, thanking me for our video tutorial I had done last year showcasing their wonderful assisted living research tool and database – the Maryland Access Point.
They asked if I would consider re-doing it, since they had updated their service, graphics, logo, and database.    I was glad to do it.
Here is our updated video tutorial on how to use Maryland Access Point to:
Find Assisted Living Statewide in Maryland.  The database is searchable by service, county, or zip code
Learn about monthly facility costs,
Learn if Medicare or Medicaid is accepted
Learn if Long-Term Care Insurance is accepted
Learn whether VA (Veteran's Administration) insurance or programs are accepted
Facility size (capacity)
Direct contacts
And much more!
When you are at the search tool, just enter:
County
 Housing/Facilities/Shelters
Assisted Living Facilities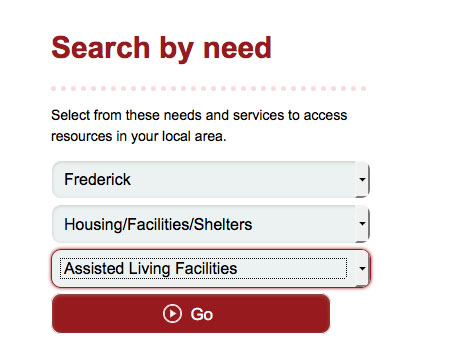 From there a list of facilities will come up.
You can print, compare, email, and map the facilities using the filters at the top.
Clicking through on a facility will bring up a great deal of information relevant to that facility.
This site, and information should prove to be an extremely valuable tool for your research into assisted living and long term care options in Maryland, statewide.  You can also take comfort that the information presented is unbiased, and non-commercial in nature.
The other types of care that can be researched in Maryland using this tool include (but is not limited to)
Hospice
Dementia Management
Aging & Disability Resource Centers
Independent Living
Nursing Centers
Senior Centers
Long Term Care Ombudsman support & programs
Adult Residential Facility Complaints
Geriatric Assessment
& much more!
Learn more, and use the tool at:
https://www.marylandaccesspoint.info/consumer/search.php