Filing A Complaint Against A Colorado Assisted Living Facility
The State of Colorado, and their Department of Public Health & Environment provides a few different ways that any party can file a complaint against an assisted living facility or home in Colorado.
This is an important procedure to know, especially if you are residing in, or if you have a loved one living in an assisted living community.
What You Need To Do:
You'll need to visit the Health Facilities Complaints Page on the CDPHE site where they have guidelines on how to file.
https://www.colorado.gov/pacific/cdphe/health-facilities-complaints
There is some pretty specific information that they will need, and of course, the more details you can provide the better. They'll need the who, what, where, when, and how of the incident or concern.
Then, they talk about the type of complaints that can be investigated. Essentially, if you feel that there has been substandard quality of care, or an infringement on a patient's, or resident's rights, or any health or safety concern, an investigation will be initiated.

Anyone can file a complaint.
This can be a family member, a resident, a healthcare worker or other caregiver. Basically, if you suspect, or are witness to something that is a potential concern, you can file a complaint.
Can I file Anonymously?
The answer is yes. Verbatim from the CDPHE site: "If you file a complaint, our investigators don't share your name with the health care entity unless you instruct us otherwise.
The Health Facilities Complaints site and page also talks about eh investigation process, how investigations are prioritized, how outcomes are handled, as well as the implications for, and potential consequences for the health care entity or facility.
Filing the Complaint
Once you have read through the previous section, and have an understanding of the process and requirements, you can then go to the actual filing page here:
https://www.colorado.gov/pacific/cdphe/health-facilities-complaint-and-occurrence-contacts
There are different ways you can file.
1) By email:

2) By Fax:

3) By Mail

4) By Phone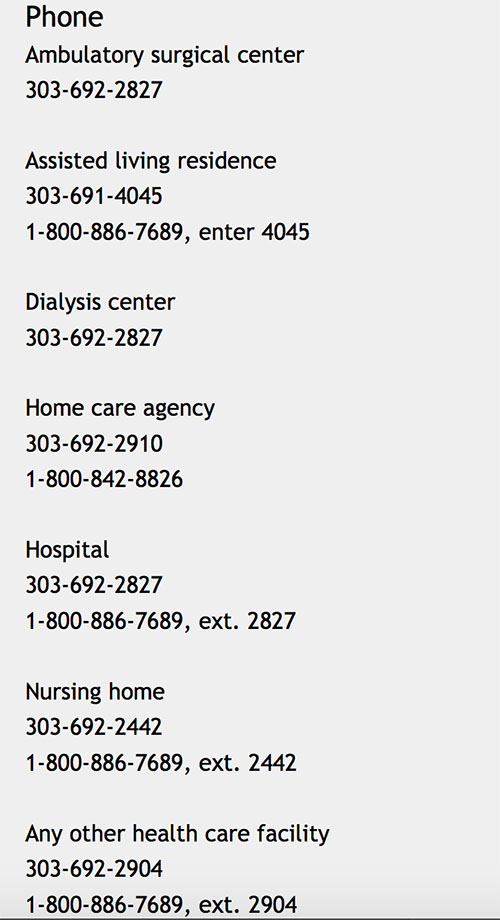 Additionally, another way you can have a facility investigated is to contact your local Long Term Care Ombudsman, that is usually housed under your Local Area Agency on Aging. A LTC Ombudsman is a neutral 3rd party provided through the State of Colorado, who is trained with the purpose of investigating complaints, or care issues within assisted living facilities and other senior care entities.
You can learn about your specific Area Agency on Aging in Colorado here:
https://www.colorado.gov/pacific/sites/default/files/No%20Wrong%20Door%20-%20Area%20Agencies%20on%20Aging%20Brochure.pdf
You'll see a great map of the State, with each area's corresponding Agency: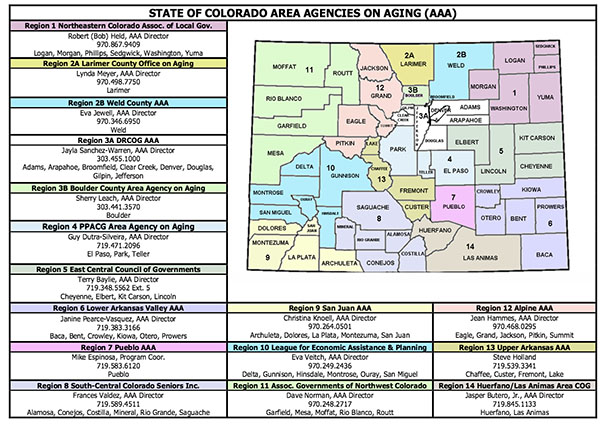 Each city, county and rural area of the State is covered by one of these Agencies, and it is a great place to start if you have questions, concerns or need support with just about any aspect of senior care, elder issues, as well as care concerns that may need to be investigated.