How To File A Complaint Against An Illinois Assisted Living Home
The bad news here, is that there is no good way to look up assisted living facility complaints in Illinois.  This is unfortunate, since most states have free, public databases of assisted living facility (or home) inspections, and complaints.
The good news is that it's very easy to file, or submit a complaint (even anonymously) against a long term care facility or assisted living community in Illinois.
This is so important to know how to do this.  I believe that many potential instances of abuse or substandard care go unreported since the resident, or families don't know how to go about it.
For Illinois, here is how you file/submit a complaint – and you can do so anonymously!
Go to the Illinois Department of Public Health Website.   They have a good section dedicated to Assisted Living/Shared Housing Licensed Establishments Directory.  In the left-hand column, you'll see a link for "File A Complaint."
Once there (in the File a Complaint section) you'll see a brief intro on the types of care issues and allegations that the Department will handle, and the types of facilities that can be investigated.
Go down to the "Ways to File A Complaint" section, and there are several different methods you can use.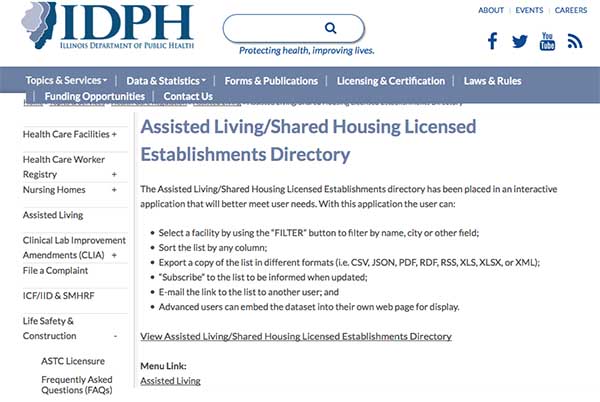 Ways To File A Complaint
File by phone. Central Complaint Registry Hotline – 800-252-4343
By mail.  I would not recommend this method for any serious or life-threatening issue. I include the address below.
By fax.  Not a recommended way either, but you can certainly do it.  I include the fax number below as well.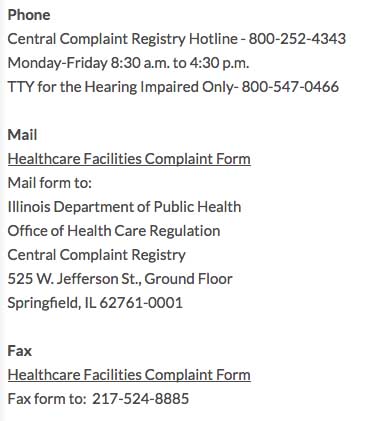 Who can file a complaint?
Well, pretty much anyone, from patients, residents, caregivers, members of the family, and assisted living facility workers.
Once you submit a complaint, it will be reviewed and investigated on a priority/seriousness basis.  I'm sure if you have a very benign complaint, it may take some time for it to get resolved – from a few weeks to months.
How To Check The Status?
Call the Department's Bureau of Long-Term Care at 800-252-4343 (note: this, according to the IDPH is not a toll-free call.
Are there other ways to have an issue investigated?
Yes, you can always resort to contacting your local area agency on aging (each state, city and even rural area of Illinois and the US are covered by one of these agencies) where they should have a Long-Term Care Ombudsman that is a trained, neutral representative whose role is to look into (investigate) problems within assisted living facilities.   You can find your Local Area Agency on Aging in Illinois here:
https://www.illinois.gov/aging/PartnersProviders/Pages/aaa-main.aspx
You can learn about the Illinois Long-Term Care Ombudsman Program here:
https://www2.illinois.gov/residents/health-safety/AGE/ltc-ombudsman