There are a few places you can go to learn about Alabama's Assisted Living Regulations, and we will highlight those pages and sites here, and include links to them as well.
This information may be useful to those who are considering opening an assisted living home or residential care facility, as well as to seniors, facility residents, caregivers or families who wish to know more about standards and regulations for assisted living in Alabama.
The first place we recommend that you visit is the Department of Public Health, Bureau of Health Provider Standards which is the agency that regulates assisted living in Alabama.
This is the "regulatory agency responsible for licensing and/or certifying health care facilities" including assisted living.  This Division also certifies facilities for participation in Medicare and or Medicaid Programs.
This site offers a number of excellent additional pages, tips and data.  You'll find:
Health Care Facilities Descriptions: Including a description for assisted living.   This is important, since every state's definition can be different.  There is an additional link that goes to a PDF document for "Rules of Assisted Living Facilities" which is provided by the Alabama State Board of Health.  You can see the PDF here.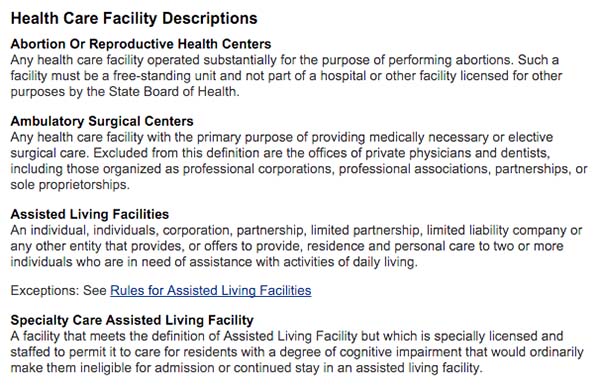 You'll also see a  link to a Facility Deficiencies database.    This is good to look through for learning how a specific facility has been managed and operated, and also to see how facilities are investigated in Alabama.
The Health Facilities page also provides a Facility Directory, which is for Alabama Statewide.  This is a great way to research facilities anywhere in Alabama.
There is a page for "Tips For Selecting A Nursing Home" which is applicable to assisted living as well.  The tips are helpful, and they also offer a list of good questions to ask facilities that you are considering.  An example question might be "How food likes, or dislikes are handled, and menu choices made."
You'll also see a Certified Nurse Aide Registry for Alabama. The purpose here is to verify the status of a Nurse Aide.

About Alabama Assisted Living Regulations:
The next stop for you to visit is a rather large (at this time 77 pages) PDF provided by the Alabama Board of Health, which covers Assisted Living Regulations in Alabama.  The most recent version is here:
http://www.alabamaadministrativecode.state.al.us/docs/hlth/420-5-4.pdf
This document covers just about every area of assisted living that you can imagine, from: Licensing; Administration; Personnel and Training; Records and Reports; Care of Residents; Food Service; Physical Facilities; Laundry; Sanitation; Housekeeping; Fire and Safety and Physical Plant.
Here is the actual table of contents:
Licensure
An example of the type of information you'll find is concerning the types of licenses that are granted by the State Board of Health.   There are two types of licenses.
Regular License
Probational License
The latter is given when the Board has reason to believe that the operation (facility) is questionable in some way.  Once the board believes that the facility has corrected issues, and the health and safety of the residents is not in question, the Board may then grant the facility it's regular license.
Applying For A License
This is the big question for many people (especially seasoned caregivers who wish to make the move towards opening their own facility) – How do I apply for an assisted living license in Alabama?
There is a very good page on the Alabama Board of Examiners of Assisted Living Administrators site that has a number of forms for assisted living administrators (existing and aspiring).   Forms provided include:
Assisted Living Administrator License Renewal
Replacement License Form
NHA Initial Application for License
NHA Renewal for License
Initial License for ALA License
Emergency Permit.
You can see all of these forms/pages here:
http://www.boeala.alabama.gov/online_renewal.aspx
When you apply for a License as an assisted living administrator, there are a number of things/items you will need.
Drivers License
Classroom Training and Test Dates
Copy of the Facility's State License from ADPH
and more.  You can see all of the requirements (note that the application and requirements will need to be notarized), including the application itself here:
https://www.alabamainteractive.org/assisted_living_admin/welcome.action
The page looks like this: