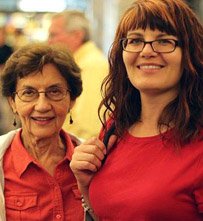 Communities like Springfield are very easy to research, and write about for us, since there is so much for local seniors in terms of support, assisted living facilities, and city programs.
We first found the Greater Springfield Senior Services (413-781-8800) – which looks to be a very useful local Springfield group servicing Springfield older adults, and the chronically ill. This organization is a non-profit and hast been around since 1972. Some of the services provided by the GSSSI, or agencies that they contract with are: Case Management, Adult Day Care, Congregate Housing, and Home Delivered Meals. They will also investigate allegations of elder abuse, financial exploitation, and much more.
* Learn about SpringfieldFree 72 pg. Elder Care Guide (.pdf) – which includes a list of Springfield's assisted living facilities, dementia care, & those with Medicaid-funded GAFC apts.
The city of Springfield also has a Department of Elder Affairs and Council on Aging that strives to improve the quality of life for local Springfield seniors. There are a multitude of programs under the umbrella of the Elder Affairs Office, from Employment Programs to computer instruction and even a smoke detector installation program. To find out more, you may contact the Springfield Elder Affairs office at 413.787.6785. Intro by D. Besnette
[Video]Two Great Sites for Researching Assisted Living in Springfield, MA
Video Produced by Assisted Living Directory
Learn average costs, get facility lists in Excel/.PDF formats, and a helpful, free Consumer Guide provided by the State of Massachusetts!
Springfield – Assisted Living Facilities & Senior Care
74 Walnut Street
Springfield, MA 01105
Phone 413-733-1517
888-723-8284Pricing & Availability

Three meals served daily in the dining room
Personal care services (up to 45 minutes per day)
24-hour staffing
Weekly housekeeping including flat linen service
Health promotion and exercise programs
Reminders for self-administered medication
Cultural, educational and social activities
Scheduled transportation
Maintenance
Longmeadow, MA 01106
800-633-6313
Number of Units: 34
888-981-6827Pricing & Availability

Independent Living
Assisted Living
Skilled Nursing
24 Tabor Crossing
"…Located on a lovely 24 acre property on the East Campus of
Springfield College"
807 Wilbraham Road
Springfield, MA 01109
413-782-1800
Number of Units: 56
1-866-333-6550Pricing & Availability
Map
780 Converse St
Longmeadow, MA 01106-2178
(413) 567-6212
1-877-616-7329Pricing & Availability
Map
Individualized personal care assistance
Professional case managers who evaluate a resident's condition and if necessary, assist with recommendations on how to best meet their evolving care needs
On-site wellness nurse and wellness programs
The Garden Level – Alzheimer's Neighborhood
Kosher Meals
"…We are located in Springfieldbeautiful historic district within walking distance of libraries, museums, churches, parks and shops"
85 Spring Street
Springfield, MA 01105-1297
413-736-5494
866-666-1057Pricing & Availability
Map
We provide:
24-hour-a-day medication administration
Assistance with personal care, such as bathing, grooming and dressing
Housekeeping and laundry
Nutrition services
Spiritual care
Social services
Behavioral health services
Assistance with medical appointments
Additional Support
Department of Elder Affairs
Good Life Center
1600 East Columbus Ave.
Springfield, MA 01103
Phone: 413.787.6785
Mon-Fri 8:15 a.m.-4:30 .p.m.
Mayflower Senior Center
1516 Sumner Ave
Springfield, MA 01118-1750
(413) 782-4536
Greater Springfield Senior Services
66 Industry Ave # 9
Springfield, MA 01104-3362
(413) 781-8800
Riverview Senior Center
122 Clyde St,
Springfield, MA 01107-1444
(413) 787-5220