Get A Complete List of Assisted Living Facilities in Massachusetts
A lot of people ask me for a printable list of assisted living facilities, and for some states, it's easy to do, and other states, not so much.
Fortunately, for Massachusetts, there are two good ways you can get a printable, downloadable list of assisted living facilities and Certified Assisted Living Residences statewide.
First, you can visit the Massachusetts Senior Care Association, which, has a good search tool for finding assisted living statewide.
http://www.maseniorcare.org/FacilitySearch.aspx
They also provide a Complete List of Facilities that can be accessed from the bottom of the provider search page.
The list looks like this: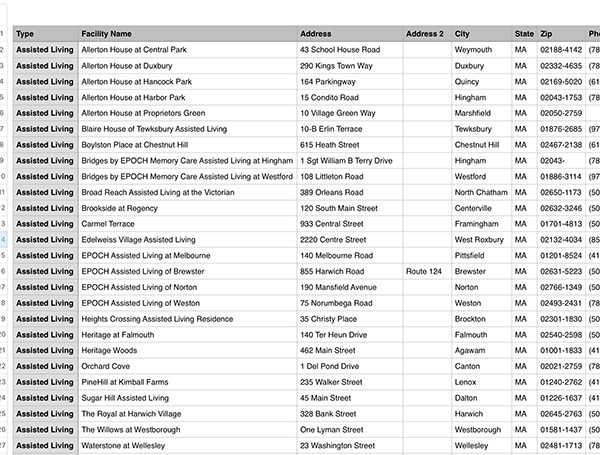 The file comes in a .csv format, which means 'Comma Separated Values.'   You can open this file with a number of different programs, and your computer should have a compatible program.
The facilities list comes with a number of columns of data that you can sort.  You can sort by:
Type
Facility Name
Address
City
State (this one is obvious)
Zip
Phone
Fax
Website (each facility's website is included, if they have one)
Ownership Status (profit, or not for profit)
Admin/Director's name
Owned by
Total Beds
Assisted Living Beds
Hospital Based NF (TCU) Beds
Independent Living Beds
Licensed Nursing Facility Beds
Services
Monthly Fee Range
and so much more
Yes, it's true, you can (for most facilities) see the monthly cost/fee range, and also, if the facility contracts with Veterans Admin, and/or a PACE program.
Example of Monthly Fee Range: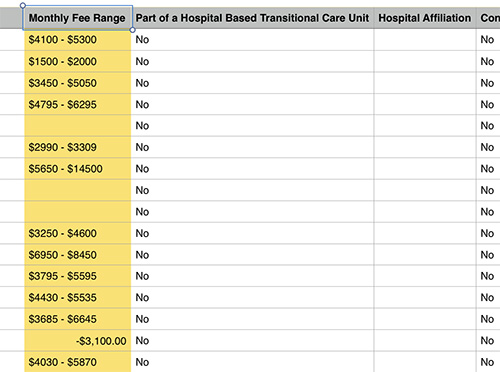 Next, you can also get a list of Certified Assisted Living Residences Statewide in either a .pdf or excel document.  This list can be obtained by visiting the State's Executive Office of Elder Affairs.
http://www.mass.gov/elders/housing/assisted-living/assisted-living-residence-list.html
This list also provides useful information, and as of this writing, appears to be updated frequently.   The .pdf list is alphabetical, with columns for:
Residence Name
Address
City/State/Zip
Phone/Fax
# of Units
# of Traditional Units
# of SCU's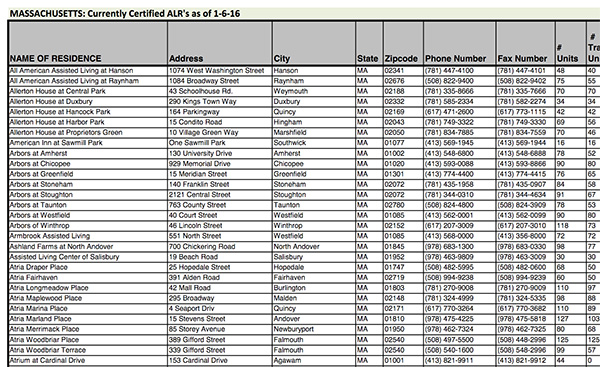 The great thing about each of these printable lists is that (especially if you are 'old school' like a lot of us) you can take notes on them, and highlight facilities that you liked as you toured them.   Even better, there is no cost to obtain these lists, and the information provided is unbiased, non-commercial and should be considered highly accurate and trustworthy.