I absolutely love it when I stumble upon something that is outstandingly helpful that I can share with our site's users.   Information that I consider post-worthy is such that it steers our users away from the prevalent commercial garbage that most sites offers, and cuts to the chase with factual data, information and guidance.
Massachusetts has just such an item, with their wonderful Assisted Living Consumer Guide (.pdf) that is downloadable, printable, and full of not-to-miss information on the state's assisted living programs, subsidies, information about facility costs, residents rights, standard laws that apply to all facilities, and so, so much more.
A screen shot from the guide: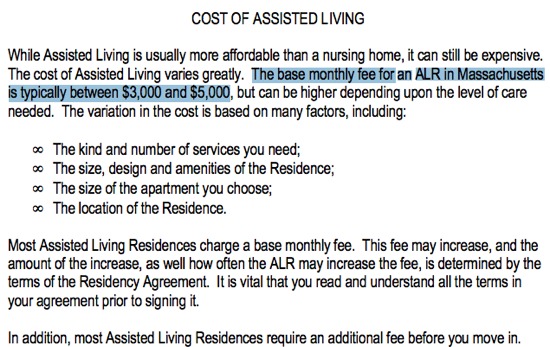 "Each Assisted Living Residence is now required to provide this Guide to prospective residents before they agree to move into the residence"
The state declares that the base monthly cost of assisted living in Massachusetts is "typically between $3,000 and $5,000, but can be higher depending upon the level of care needed."
This guide really and truly will answer just about any question about assisted living and senior care that you might have, and if not, it also lists a number of highly regarded and trustworthy state agencies and sites where you can get your questions answered, or concerns addressed.
I hope this proves to be helpful, and as always, I wish everyone safe and successful research!