The Greater Springfield Senior Services, Inc. makes researching all aspects of senior care in the Springfield area (and beyond) easy and straightforward.
The GSSSI, or Greater Springfield Senior Services, Inc. has been around since 1972, offering a plethora of services, supports, resources and so much more to Springfield's seniors, and persons with disabilities.
(Return to, or visit Assisted Living Directory's Springfield facilities page).
I'd like to start with, and highlight their wonderful Elder Care Guide, which can be saved, printed and downloaded. It comes in a .PDF format.
The guide looks like this (cover, pg. 1):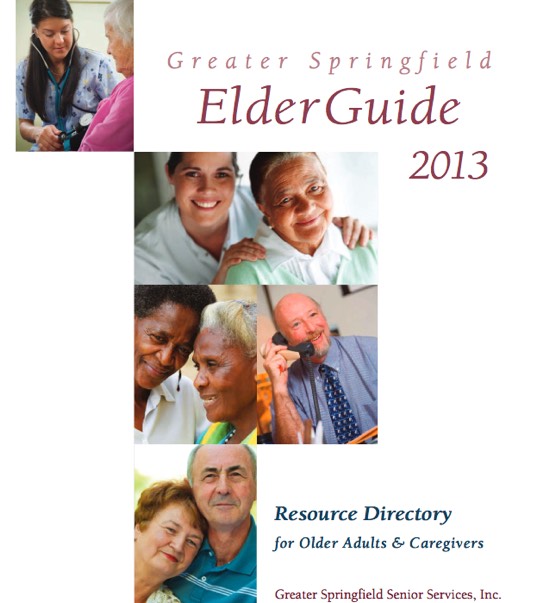 This guide contains extremely valuable, accurate, and non-commercial information on health care, senior housing, medical insurance, and in-home care services.
You can get the most recent copy here:
http://www.gsssi.org/documents/GSSSI-Eldercare-Directory-2015-final-links-additions.pdf
Some of the specific services and programs you'll find detailed in the guide are:
Caregiver Support
Information and Referral
Services for Veterans
Alzheimer's Resources
Hospice information
Housing, including Adult Family Care, Assisted Living Facilities, Nursing Homes, Retirement Communities and Subsidized Housing.
There is so much more that can be found in this guide.
The current guide, if you go to page 47, lists the area's assisted living facilities, covering Springfield and Hampden County.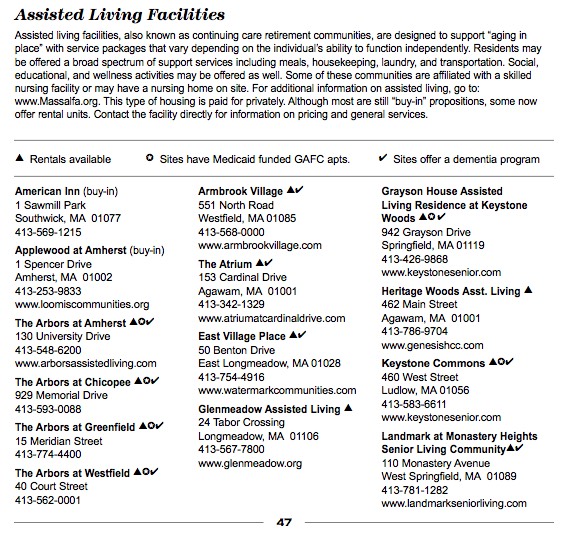 There are dozens of options listed, and the information includes direct contact information, the facility's website address (if they have one), and symbols indicating if the facility:
1) Has rentals available
2) Has Medicaid Funded GAFC apts
3) Offer a dementia program
The guide also offers suggestions on where to further your research through state resources and agencies – such as the Massachusetts Office of Elder Affairs at 1-800-AGE-INFO
This guide is great, and should not be overlooked by any senior, family or caregiver researching eldercare or assisted living in the Springfield area.
Best of all, it's completely free.