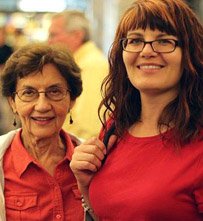 There are two things that you'll hopefully notice about our site, Assisted Living Directory, that sets us apart from many other senior care sites.
Firstly, you will hopefully take note that we allow all facilities to be contacted directly. Not all sites allow this, which we think is a questionable practice.
The other thing we do, is that we aren't afraid to highlight other excellent sites and resources to compliment our own site and offerings.
With that in mind, we'd like you to bookmark the Northwestern Illinois Area Agency on Aging (NIAAA). All cities, towns and rural areas of the US are covered by the guidance and support of an Area Agency on Aging, where you will find caregiver support, respite care, transportation services, home-delivered meals for seniors, as well as simply a trusted place to turn to to ask questions, or get recommendations on senior housing options, or perhaps to file a complaint if you suspect elder abuse.
We hope this page offers a great starting point for your research into assisted living facility options in Rockford.
We wish everyone safe & successful research! Intro by D. Besnette
[Video] Learn average costs for Assisted Living in Rockford, Illinois
Video Produced by Assisted Living Directory
Assisted Living & Senior Care Options for Rockford, Illinois
Address: 1545 Temple Lane Rockford, IL 61112
Phone: (815) 997-5234
1-866-333-6550
Pricing & Availability
Map
Retirement Living
Assisted Living
Alzheimer's and Memory Care
Short Stay / Respite Care
On-Site Rehabilitation
Address : 7130 Crimson Ridge Drive Rockford, IL 61107
Phone: (815) 398-7792
866-981-5725
Pricing & Availability
Map
Assisted Living
Rehabilitation
Short-term stays
Address: 202 North Show Place Drive Rockford, IL 61107
Phone: (815) 332-3700
888-985-4427
Pricing & Availability
Map
On-going health monitoring and nursing assessments
Assistance with activities of daily living, including bathing, dressing, personal hygiene, grooming, and getting to and from activities and dining
Medication set-up, reminders and assistance
Three meals daily plus snacks
Prescribed therapeutic diets
A range of interesting and varied programs and events
Assistance with transportation needs
24 hour staffing by certified nurses assistants
On-site beauty/barber services
Address: 111 West State Street Rockford, IL 61101
Phone: (815) 965-0055
866-315-1354
Pricing & Availability
Website
Map
Assisted/Supportive Living Apartments
Address: 1160 North Mulford Road Rockford, IL 61107
Phone: (815) 484-9500
866-666-1057
Pricing & Availability
Map
Address: 2885 McFarland Road Rockford, IL 61107
Phone: (815) 282-3340
877-345-1716
Pricing & Availability
Map
Address: 4141 North Rockton Avenue Rockford, IL 61103
Phone: (815) 316-1500
**Wesley Willows is the only accredited continuing care retirement community in Rockford
888-981-6827
Pricing & Availability
Map
Address: 4054 Albright Lane Rockford, IL 61103
Phone: (815) 654-2534
866-981-5725
Pricing & Availability
Map
***We highly recommend checking out the State of Illinois Data Portal which offers an excellent, non-commercial search tool for assisted living in Rockford, and Statewide!
Assisted Living Directory has helped 1000's of families (including our own!) to connect with great care facilities! You can read our personal experience here!
866-315-1354Pricing & Availability

Additional Support
List Your Facility Any licensed facility in Peoria may list here!
See a 'Street View Photo' of each facility in this section by using the 'map' links
***Tip: The facilities that appear on this page may be contacted directly. Don't fall for the questionable practices of many other senior sites!