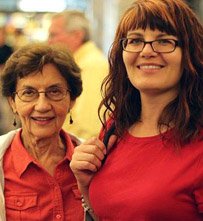 We've tried hard to be different, with our approach to assisted living, and the information we provide. Most notably, we allow each facility we list to be contacted directly. Most other 'senior sites' don't do this.
We also believe that it is important to highlight other useful and trustworthy sources of senior care information. For Buffalo, we'd like to introduce you to it's Local Area Agency on Aging – which, for Buffalo is the Erie County Department of Senior Services (see the video below). Here, you'll find support, assistance and programs geared toward's Buffalo's seniors, families and caregivers.
This agency and department also provides an extremely useful "Adult Homes Listings" guide which includes Buffalo's assisted living facilities. This guide comes in a 'pdf' format which is printable.
We've also listed facilities on this page – all may be contacted directly, and safely.
Facility information includes the facility/home's size (capacity), direct contact information, and the facility's website address if available. Additionally, this guide will indicated whether the facility is for, or not-for-profit. Intro byD. Besnette
1-877-616-7329Pricing & Availability

3 Imporant Sites for Facility Research (Including Inspections, Complaints & Violations) – Buffalo, NY
Video Produced by Assisted Living Directory
Assisted Living Facilities & Senior Care Homes – Buffalo
275 Brompton Rd Williamsville, NY 14221
(716) 634-5734
866-315-1354Pricing & Availability
Map
Assisted Living
Memory Care
Respite Care
Independent Living
580 Orchard Park Rd West Seneca, NY 14224
(716) 677-4242
1-866-333-6550Pricing & Availability

2971 Delaware Ave Kenmore, NY 14217
(877) 760-1455
1-877-616-7329Pricing & Availability
Map
49 Tennyson Terrace Williamsville, NY 14221
(716) 632-9496
888-985-4427Pricing & Availability
Map
Assisted Living
Memory Care
575 Cayuga Creek Rd Cheektowaga, NY 14227
(716) 893-3000
866-666-1057Pricing & Availability
Map
64 Hager St Buffalo, NY 14208
(716) 886-4377
866-315-1354Pricing & Availability
Map
Residential apartment homes
Assisted living
Memory care
Skilled nursing and subacute care
Respite care
Inpatient and outpatient rehabilitation for all types of situations, including cardiac and orthopedic rehabilitation
Wellness clinic with special programs
245 Bassett Rd Williamsville, NY 14221
(716) 580-4902
877-345-1716Pricing & Availability
Map
Retirement Living
Assisted living
Alzheimer's and Memory Care
Short Stay / Respite Care
On-Site Rehabilitation
3456 Delaware Ave Buffalo, NY 14217
(716) 877-7171
888-502-2057Pricing & Availability
Map
A welcoming home-like environment
Caring staff who strive to promote respect and dignity for all residents
Affordable, all-inclusive services; no entrance fees and no hidden charges
Beautifully furnished private and semi-private bedrooms with full bathrooms
Pleasantly-landscaped grounds
Suburban setting close to shopping, restaurants and places of worship
410 Mill St Buffalo, NY 14221
(716) 632-3000
866-315-1354Pricing & Availability
Map
We specialize in memory care and dementia care.
Additional Support
We highlight two excellent NY assisted living research tools offering comprehensive information on the state's Assisted Living Programs and Senior Care Options, including Buffalo
Erie County Connects – Helps you to explore Long-Term Care choices for Erie County/Buffalo NY!