Learn About New York's Assisted Living Regulations
Return to, or visit our New York assisted living facilities section.
Knowledge is power, and this truth is extremely evident in the assisted living industry. Residents, their caregivers, and their families who are knowledgeable about state assisted living regulations, rules, and resident rights can more effectively voice concerns when things seem to be going wrong.
Unfortunately, many residents and families aren't sure where to look to find their particular state's rules and regulations for assisted living or other types of long-term care.
Assisted Living Directory strives to put this information front and center on our site. We believe it's that important.
For New York, your state's assisted living regulations can be found on the State's Department of Health Website:
http://www.health.ny.gov/facilities/assisted_living/adopted_regulations/docs/assisted_living_residences_laws_and_regulations.pdf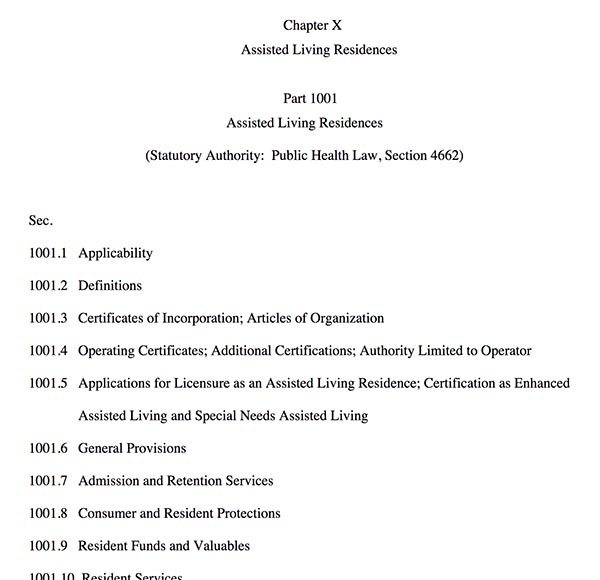 (Statutory Authority: Public Health Law, Section 4662)
This document is in a .PDF format, and is freely accessible to anyone and everyone. It can be easily printed and saved.
The document is long – at the time of this writing it is over 85 pages, and covers numerous topics, and areas relevant to assisted living.
Close to the front, there is a section on Definitions (1001.2) that defines terms such as Assisted Living, Assisted Living Residence, or ALR, specific to the State of New York.
It's important to note that definitions for assisted living vary from state-to-state. Often times, families are researching care for a loved one in a different state from which they reside, so one state's definitions and regulations will not carry over across state lines.
According to the State of New York. Assisted Living, or Assisted Living Residence, or ALR means: (a) "Assisted Living, Assisted Living Residence or ALR means an entity which provides or arranges for housing, on-site monitoring, and personal care services and/or home care services (either directly or indirectly), in a home-like setting to five or more adult residents unrelated to the assisted living provider. An applicant for licensure as assisted living that has been approved in accordance with the provisions of Article 46-B
of the Public Health Law and this Part must also provide daily food service, twenty-four hour on-site monitoring, case management services, and the development of an individualized service plan for each resident. An operator of Assisted Living shall provide each resident with considerate and respectful care and promote the resident's dignity, autonomy, independence and privacy in the least restrictive and most home-like setting commensurate with the resident's preferences and physical and mental status. "
There are numerous other definitions provided within the document.
Sections include
1001.1 Applicability
1001.2 Definitions
1001.3 Certificates of Incorporation; Articles of Organization
1001.4 Operating Certificates; Additional Certifications; Authority Limited to Operator
1001.5 Applications for Licensure as an Assisted Living Residence; Certification as Enhanced
Assisted Living and Special Needs Assisted Living
1001.6 General Provisions
1001.7 Admission and Retention Services
1001.8 Consumer and Resident Protections
1001.9 Resident Funds and Valuables
1001.10 Resident Services
1001.11 Personnel
Additional support and information relevant to assisted living rules, regulations and enforcement can be found on the New York State Department of Health website, in their Assisted Living Section.
Some of the items covered are:
1) Complaints about Care: The Department of Health provides a number that can be called to complain about care in an assisted living facility statewide. The number is 1-866-893-6772
 A very good Consumer Information Guide for assisted living, which talks about many of the Frequently Asked Questions, or Common Topics relevant to assisted living in New York. You'll learn who operates ALR's, how to pay for an Assisted Living Residence (bed), tips on choosing an assisted living home or residence, licensing and oversight, and a glossary of terms. http://www.health.ny.gov/publications/1505.pdf
 There are also several directories of care homes, and a link to the Adult Care Facility Directory statewide  and Licensed Assisted Living Residences . These directories provide excellent information including direct contacts, facility capacities, and more.
It is worth spending some time on the Department's Assisted Living page, as there is a great deal of information about assisted living in New York. This page, and the data provided will also offer guidance to anyone wishing to open an assisted living home in New York.
Lastly, the Department of Health provides a direct address, and phone number for questions, concerns or comments.
New York State Department of Health
Division of Long Term Care
Bureau of Certification and Finance
875 Central Avenue
Albany, NY 12206
(518) 408-1624