Finding Medicaid Waivers in the Big Apple

By Regina Woodard for Assisted Living Directory
New York, New York, the Empire State. The 27th most extensive and fourth most popular state in the US has plenty of history and lore behind it. With famous landmarks such as the Statue of Liberty, Ellis Island, Times Square, Niagara Falls, Central Park, and more, New Yorkers love living there and travelers love to visit.
New York is a popular home for many people, including seniors, with many of them having lived there for most of their lives. Seniors who are 60 years old or older increased by 12.4% between 2000 and 2010 and the number will grow to 35.3% by the year 2030; that's 1.84 million seniors in the Big Apple.
With so many seniors and growing, New York has taken the steps to ensure that their elderly residents are taken care of, recently with governor Andrew Cuomo announcing a deal with the federal government to reinvest $8 billion dollars for their Medicaid program.
In fact, there are several different Medicaid waivers that residents and their families can look into.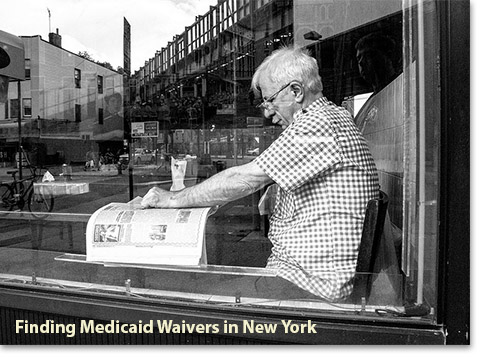 Home and Community Based Waivers
Many of the Medicaid waivers being offered are a part of the Home and Community Base services. In many cases, these services help to provide individuals the ability to stay within their homes or communities, thus avoiding the need to seek nursing home level care. Under these services is also a section for long term care services, which can involve medical, social, or rehabilitation services that a person needs over months or years.
The waiver is administered by the Office for Persons with Developmental Disabilities, or OPWDD, and provides services and supports that are uniquely tailored to the individual that requires theme. Participants are eligible for HCBS if they have a diagnosis of a developmental disability, are eligible for ICF/MR levels of care, be eligible for Medicaid, and have chosen HCBS services over the option to be institutionalized.
Nursing Home Transition and Diversion waiver
The Nursing Home and Transition and Diversion, or NHTD, waiver provides services and support for those individuals who want to return to living in the community. Individuals are either coming from a nursing facility or have chosen to participate in order to prevent going to a nursing facility.
Services under this waiver are designed to meet the needs of the participating individuals or families, with options such as informal support, non-Medicaid services, federal services, and others being explored before utilizing the waiver services. Overall, provisioning of these need to be necessary and cost effective to avoid institutionalization.
Among the offered services are –
Assistive technology
Community integration and transitional counseling,
Home delivered meals
Environmental modifications
Medical home visits
Moving assistance
Nutritional counseling and educational services
Peer mentoring
Respite
In order to be eligible for this waiver, participants need to meet all of the criteria set forward – participants need to be recipients of Medicaid coverage that supports community based long term care services, be between the ages of 18-64 with a physical disability or be aged 65 and older when applying for the waiver, need nursing facility level of care, and more.
Long Term Home Health Care
Another HCBS waiver that is also designed to keep individuals within their homes and community, the LTHHC waiver provides a coordinated effort of providing care and services to those that would require nursing facility care. Services can be provided to a person's home, and adult care facility, or in the home of a responsible adult (such as an adult child or friend). The goal of this waiver is three-fold –
Prevent the premature or unwanted institutionalization of individuals
Allow those who live in a nursing facility to return to the community with provided services and supports
Prevent or reduce the costs that are associated with unnecessary hospitalization and other health services.
Some of the services this waiver provides includes –
Medical/social services
Nutritional counseling and education services
Respiratory therapy
Assistive Technology
Community transitional services
Environmental modifications
Home maintenance
Moving assistance
Respite
To be eligible for this waiver, participants must meet all of the requirements set forth, including being medically eligible for nursing facility placement, verify the desire to remain at home, verify that they are choosing the LTHHC over other programs and service options, and have MA coverage that supports community based long term care services. There is currently no age limit for the waiver.
There are other types of waivers that individuals can take part in, such as the OPWDD comprehensive waiver that provides a live-in caretaker, respite, supported employment, and others, as well as the Traumatic Brain Injury waiver for individuals who have suffered from an injury to the brain or skull. These are just a few of the different waivers that New Yorkers can learn and discover for themselves or their elderly family members.
For more information, contact the Department of Health at 1800-505-5678 (if you reside in NYC) or email them at dohweb@health.ny.gov
Photo by L. Fishman
References
Elderly New Yorkers, Here for the Duration
Redesigning New York's Medicaid Program
Nursing Home Transition and Diversion Medicaid Waiver
Long Term Home Health Care Program Medicaid Waiver