Washington State's Assisted Living Rules and Regulations
This page has been created to provide an overview of Washington State's Assisted Living Rules and Regulations.   I will show you where to find the official rules for assisted living facilities and homes, and I will highlight the agency that is responsible for the regulation and oversight of assisted living for the State of Washington.
Who regulates assisted living facilities in Washington State?
The State of Washington's Department of Social and Health Services 'houses' the Aging and Long-Term Support Administration, which is the agency charged with the job of overseeing and regulating all assisted living homes in Washington.  The facilities that are regulated by this agency include:
Nursing Homes

Assisted Living Facilities

Adult Family Homes

Intermediate Care Facilities for Individuals with Intellectual Disabilities (ICFs/IID)

Supported Living; and

Enhanced Services Facilities
A visit to their site offers some helpful information and guidance relevant to assisted living and other modalities of care.   Clicking through to the Long Term Care Services section, and then Long Term Care Housing, you'll be able to view a section specific to Assisted Living Facilities, and there is a very useful 'Find An Assisted Living Facility" link.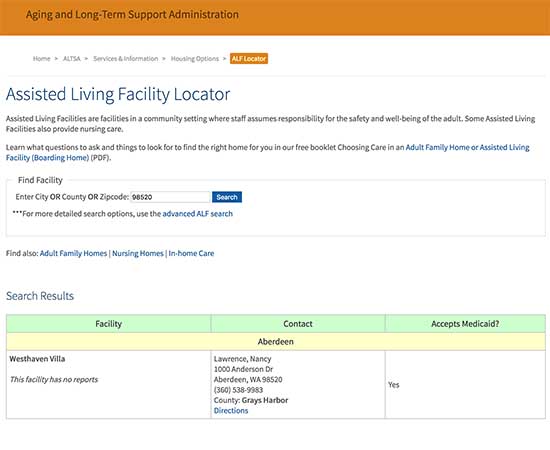 The search is done by city or Zip code – at this time, I found that the only method that was working for this search tool is by entering a zip code.  Hopefully that will be corrected soon.
Where Can I Find Washington's Assisted Living Rules and Regulations?
These are found on the State's Washington State Legislature page, under the Assisted Living Facility Licensing Rules, Chapter 388-78A section.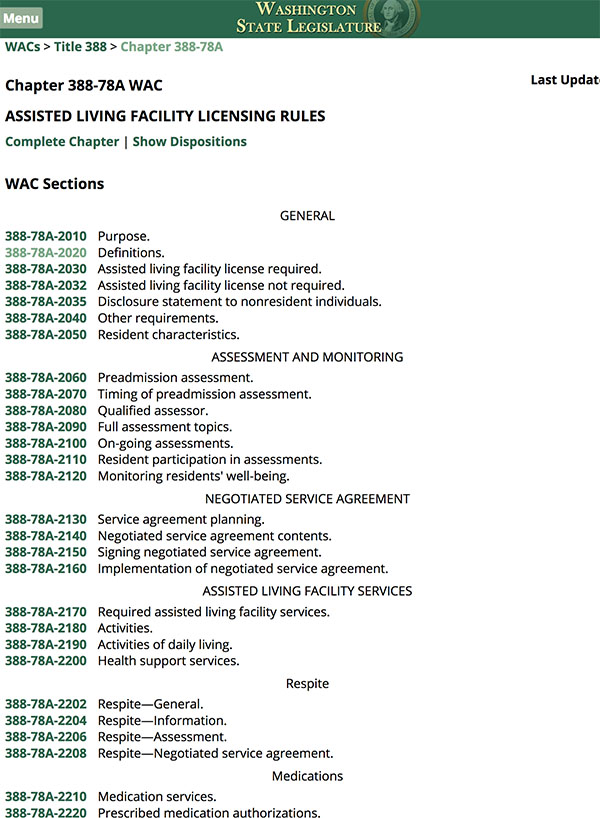 The set of rules is comprehensive, and thorough and listing all of them here is outside of the intent of this post, however, there are some important sections to highlight.
Under the 'General' section, there is a 'Definitions' rule (388-78A-2020).   I like to point this out especially when it comes to the definition for assisted living.  Each state defines and regulates assisted living differently and Washington State has it's own unique definition: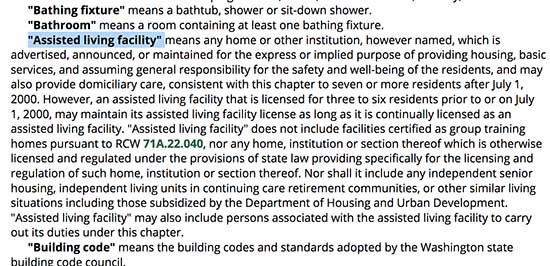 There are also other sections that are important:
Assessment and Monitoring: Includes rules on resident assessments, and monitoring well-being
Negotiated Service agreement:

 

Includes rules on agreement planning and implementation of service agreements
Assisted Living Facility Services:

 

Includes rules and regulations around required services, activities and health support services.
Respite:

 

Includes rules and regulations relevant to respite care
Medications: Includes rules regarding medication refusal, storing and securing medications, family assistance, and more.
Food:

 

Rules surrounding food service in Washington's assisted living facilities, as well as sanitation
There are many more sections, including rules surrounding the administration and staffing, building codes and standards, inspections, enforcement remedies and appeals, and much more.
Of course, significant time would need to be spent learning and retaining all of this information.  It's good to know where to refer to this information often, especially if you are a family with a loved-one in an assisted living setting in Washington.
These rules and regulations should also be standard fare for staff, owners and administrators of assisted living communities in the State of Washington, and should also offer guidance to those wishing to open an assisted living home here.
The reality of it is that the day-to-day operation of an assisted living home is serious, involved, tedious and ongoing work to maintain the health, safety, rights and well-being of each resident.   Many facilities are penalized, and even have to shut down eventually due to non-compliance and adherence to these rules.