How To Find Spanish-Speaking Assisted Living Facilities in Florida
Return to, or visit our Florida Assisted Living section.
It's an inevitable spot we have found ourselves in as a country, where a good percentage of the population of the US is Spanish-speaking, and English is still a second language.
Florida is no exception.   Did you know that the Hispanic and Latino population of Florida has steadily increased over the years, to where it is today at nearing 5 million people. 
This ranks Florida 3rd in the US, according to the Pew Research Center.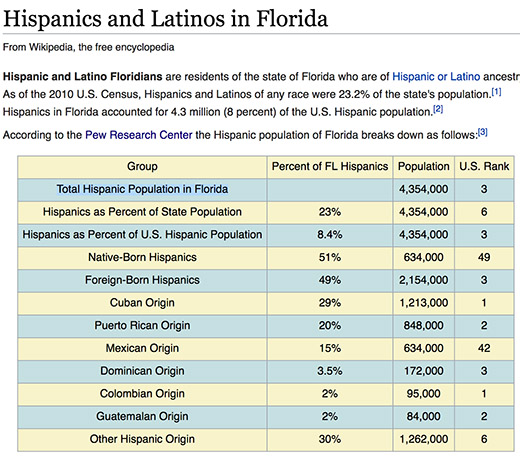 This chart from Wikipedia.
The percentage of people statewide in Florida that is Hispanic or Latino is almost 25%.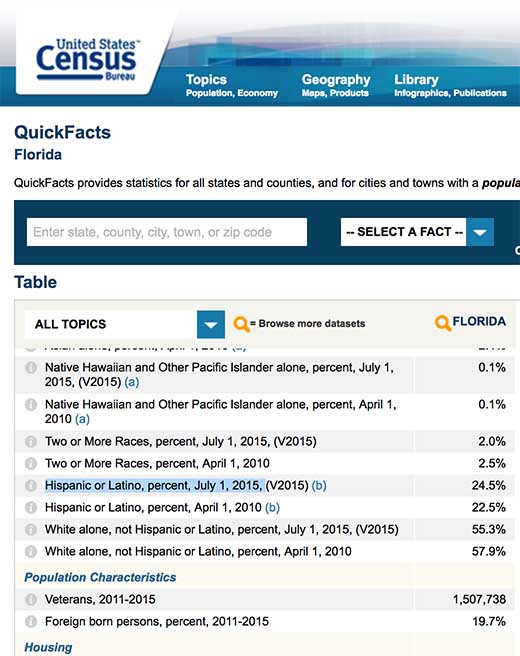 This according to the US Census.
Unfortunately for this population, researching assisted living facilities and residential care homes in Florida that offer Spanish-speaking staff can be challenging.   Many facilities only advertise in English, even though they may have staff available who can speak Spanish.   
How to find Spanish-Speaking Assisted Living in Florida
There's a very easy way to find facilities anywhere in Florida that can accommodate Hispanic residents who need to communicate in Spanish.   
The first step is to to to the Florida Health Finder database and site, which is state-supported.  Here, you'll see a Facility Locator page that allows you to search for care several different ways.  You can:
Search by Facility Type/Location
Search by Proximity (basically, add an address, and it will tell you what's close)
By Provider Inspections Reports and Final Orders
There's also an App you can use for your phone that I have highlighted in another video/tutorial to search for care in Florida.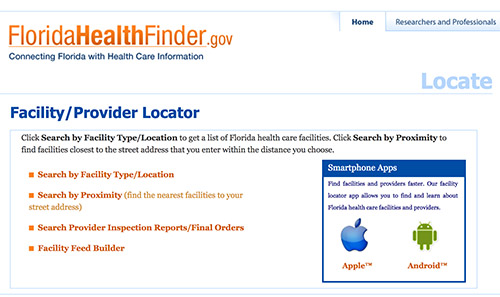 For this example, I'll choose 'Search by Facility Type/Location" and then,  I will select my Facility / Provider Type, which will be Assisted Living Facility. 
I'll then enter a city, and from there, a list of all licensed assisted living providers in my city will be populated in an easy-to-read table, that you can also save to Excel, or print.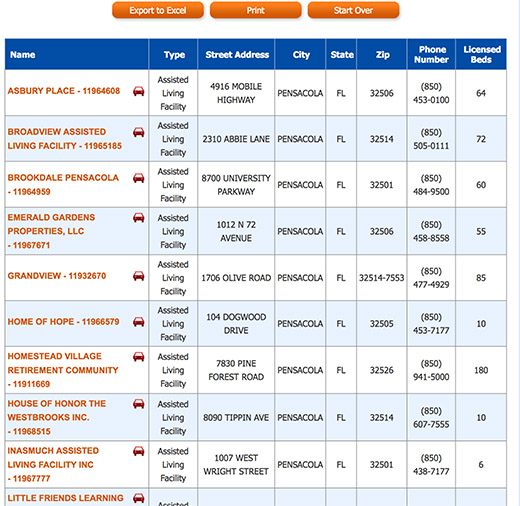 You'll need to go through and look at each facility, as that's where the facility details are, including languages spoken.
Aside from the incredibly helpful data provided at the outset, including:
Facility Name
Facility Direct Phone Number
County
Licensed Beds
Profit Status
License Number
License Effective Date and Expiration Date
and more
You'll see a section for 'Services and Characteristics' that I've found to be incredibly useful.  
You'll see a "Languages Spoken" area, and often times, you'll see English as well as Spanish listed.   

You can also see what other programs and services are offered including Memory Care, Physical Therapy, Arts and Crafts and more.
I wish this database were offered in Spanish so that people could search for "Se Habla Español" in their native language.
For now, there are a good number of different language translator sites out there that you can use for help, including Google Translate, and this great tool that allows you to translate an entire webpage from English to Spanish, or almost any other language you can think of!