How To Find Medicaid Assisted Living in Florida
Id' like to share with you one of my absolute favorite resources when it comes to researching assisted living in Florida.    It's a breath of fresh air in that it is ad-free, and supported by the State of Florida (their Agency for Health Care Administration).
You'll be glad you visited this site – trust me!
How to find Medicaid Assisted Living and Residential Care Homes in Florida
So, you'll need to go to the 'site of awesomeness' that I alluded to above, which is the Florida Health Finder site.   Their site looks like this: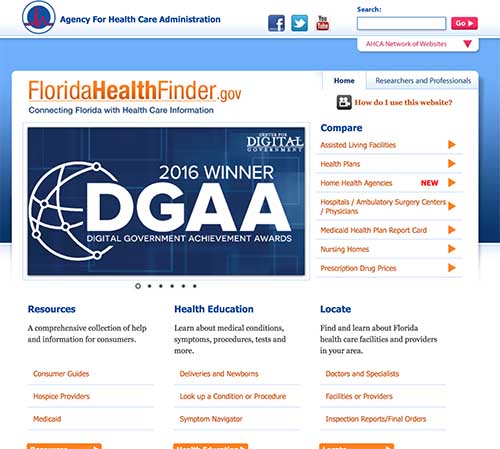 Immediately, you'll be able to se a section for 'Assisted Living Facilities' that takes you to some pretty cool and helpful stuff.
To find Medicaid assisted living (as well as VA, Long Term Care Insurance qualified) facilities, jump to the 'Find and Assisted Living Facility' section.
http://www.floridahealthfinder.gov/facilitylocator/facloc.aspx
From there, you'll need to select 'Search by Facility Type/Location' which takes you to one of the best search tools for finding assisted living that I have ever used.    It is comprehensive, and thorough, and lists every licensed facility in Florida.   There are thousands!
Just put in 'Assisted Living Facility' in to the first box, and then, type in your city, or zip code, or even county, and you'll get a thorough list of facilities.
You'll need to go through and click on each facility to find the types of payments accepted.  I don't know of a way to search or filter by Medicaid facilities.
Once you select a facility, you'll see quite a bit of initial, very useful information.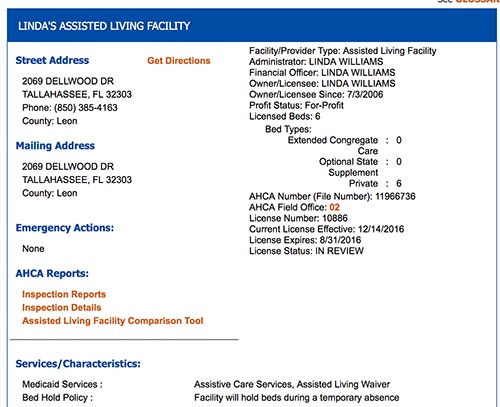 Then, down below you will see under the 'services and characteristics' section more really useful information.    You should see a 'Payment Forms Accepted' section, and you'll likely see things like:
CHAMPUS
Insurance and/or HMO
Medicaid
Other
VA
CHAMPUS, if you didn't know, is 'Civilian Health and Medical Program of the Uniformed Services.'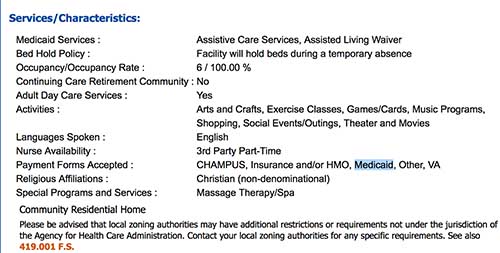 The other really great tool found on Florida Health Finder is their 'proximity search' which allows you to search for assisted living close to a specific street address.   For example, if mom or dad lives at a certain street address in any city or town in Florida, you can enter that, and then choose Assisted Living Facility, and then select 'distance within' which is between 1000 feet or up to 100 miles.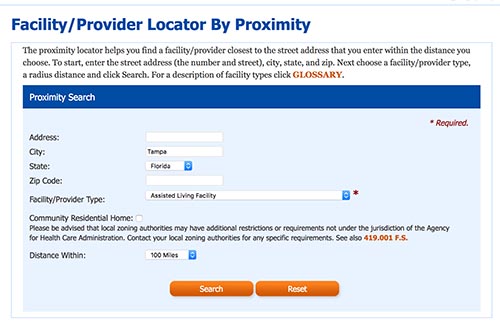 This is an entirely useful function, even if you are looking for Medicaid facilities in Florida, as you can really zero in on facilities closest to your loved on, or to yourself, if you wish to be near mom or dad after they move into a facility.    
Lastly, you can print or save the list of facilities that are produced.  This is great if you are a 'note taker' with good old-fashioned pen or pencil (or highlighter) you can print the list and take notes, or highlight those Medicaid facilities near you that you are considering, or wish to visit or tour.
A final note – not all states qualify assisted living facilities for Medicaid.  Florida, fortunately, is one of the few that does.